As technology continues to rapidly improve, it's becoming easier than ever to install your own home security system. There are multiple installation options to keep your home secure. You might want to consider the following security systems for monitoring your home: wired or wireless CCTV camera systems, smart indoor or outdoor cameras, smart alarms, smart smoke detectors, smart window and door opening sensors and smart video doorbells.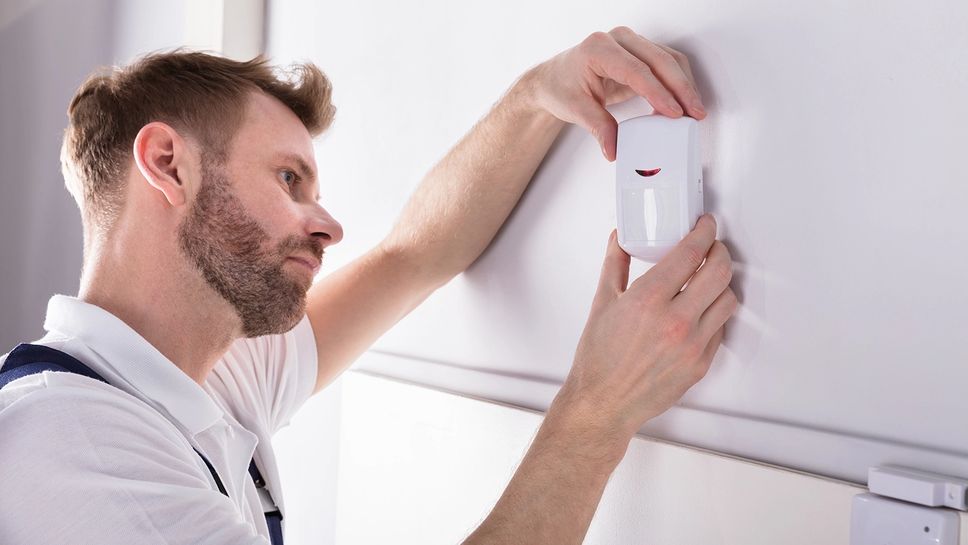 So, what exactly do we mean by 'smart' security systems?
Many of the latest generation home security options include smart features
This means that you can link your new security system up to the WiFi network in your home. This allows the different installations (CCTV security cameras, smart sensors, smart doorbell, smart alarms) to communicate with each other and better protect your home.
What's more, many home security companies now provide apps that you can download to your personal smart devices.
These apps work with your smart home security system, so you can receive alerts about unusual activity in and around your home even while you're away from your property.
This means that a smart home security installation could be the ideal option for you if you're looking for increased peace of mind while you're at work, or away on holiday.
Who is responsible for installing your home security system?
There are two main installation options for your new home security system.
You can either contract a professional to install your new cameras, alarms, sensors and so on, or you can go for the good old Do It Yourself approach.
If you're pretty handy with household DIY, go ahead! As technology develops, manufacturers of home security systems are increasingly conscious of making installations as easy and painless as possible.
However, if you'd rather entrust the installation of your home security system to a professional, that option is also readily available.
If you're choosing between the DIY approach or contracting a system installation professional, there is an important point that you should bear in mind: is your home security system wired or wireless?
Wired home security systems are more complex to install, so you may need professional assistance to get your wired CCTV cameras or alarms up and running.
If this is the case, the company that has manufactured your home security system may be able to point you in the direction of a recommended, reliable installation company.
On the other hand, if you've opted for an entirely wireless home security system, you can get stuck into your own DIY installation much more easily.
If you want to install a wired security system in your home (whether that involves a wired security camera setup, wired alarms or wired smoke detectors, for example) you'll most likely need the help of a trained professional. Installation prices will vary from professional to professional. So, make sure you always ask for a clear quote before you agree to pay for the installation process! If you're looking to save on costs for your home security system, why not go for a wireless installation that you can set up yourself?
DIY installations for wireless home security systems: let's get started
If it's a wireless home security system you want to install, there are a few things you should bear in mind.
Firstly, you've got to choose where you're going to install your new home security devices.
If you're installing a smart system, you'll need to make sure that your new cameras, sensors, alarms, etc. are within good range of your home's WiFi system.
A weak WiFi connection may mean your smart features won't actually function!
Secondly, make sure that you position your wireless security devices in strategic locations. You'll want your wireless cameras to be angled so that they can monitor vulnerable points on your property.
These more vulnerable locations around your home could be the back and front doors (an obvious option, but one that is still widely used by intruders), your garage door, windows that are on the lower floors of your home, or any entry points into your home's garden.
Plus, you'll want to position smoke detectors all around your home, but most especially close to areas that pose the greatest fire hazard.
It's advisable to install these security devices close to the kitchen, close to the lounge (you might have candles burning in there to relax, for example) and close to areas where people might be using heated hair tools (if these are left on by accident, they create a real fire hazard within the home).
Thirdly, wireless CCTV cameras, and other wireless home security elements, often run on battery power. That means there aren't any wired elements involved, which keeps installation simple, quick and cheap.
However, you will need to make sure you regularly check the batteries in your new wireless home security system.
That way, you can make sure that your security installation is always functioning to the best of its ability.
So, what should you think about before you start to install your new home security system?
To summarise, there are multiple factors that you should consider before you install your new home security system.
Is wired or wireless the right choice for my home security system?
Go wireless for easier, cheaper installation options.
Where should I install my new home security devices?
Pick your strategic installation locations carefully.
Should I go for smart home security devices?
If your home is often empty during the day (because everyone is out at work, for example), or you and your family often head away on extended holidays, a smart home security system could be the option for you.
Protect your home and prevent break-ins with a complete security solution. Your Netatmo Smart Alarm System with Camera alerts you to a problem even before an intruder manages to break in. How? Installed on the doors and windows of your choosing, our sensors can tell if someone is trying to force entry.