Nowadays, we use our smartphones for everything: sending messages, checking the weather, shopping etc. Although we don't always think about it, smartphones can also be a real ally in a home security system. Especially when it comes to video surveillance. Optimal resolution, live video, night vision… connected surveillance cameras are very effective. You can now monitor your home from any angle and control your camera's functions directly on your smartphone. By owning a wireless and connected surveillance camera, you can turn your smartphone into a remote extension of your security system!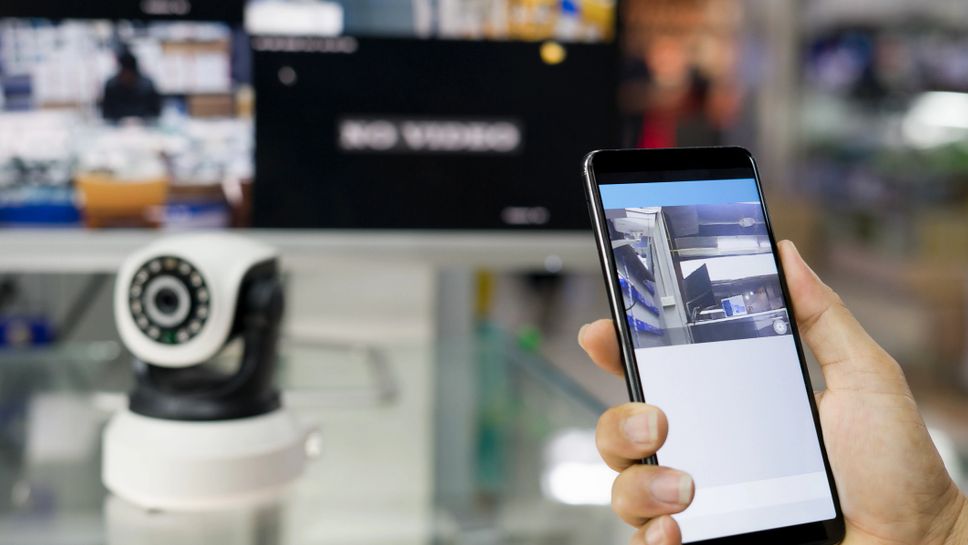 Wired and wireless surveillance cameras: how they work and their role in home security
A wireless surveillance camera, also referred to as an IP camera, works without the need for a mains connection. Wireless cameras have two possible energy sources: rechargeable or disposable batteries.  Another option is wired cameras such as the Netatmo Smart Outdoor Camera.
Both wireless and wired cameras can also work via Wi-Fi (or another form of internet connection). Using a Wi-Fi system allows the camera to deliver a high-quality image as it is not as sensitive to radio waves that sometimes interfere with more traditional cameras. Make sure you have a good Wi-Fi network beforehand to ensure optimal camera performance.
Connected Camera Categories
 To ensure complete home security, there are two possible types of surveillance cameras:
Outdoor cameras that provide surveillance of your home's outdoor space, such as your garden or terrace. For example, the Netatmo Outdoor Smart Camera  uses its facial recognition system to detect any abnormal movement or intruders in your garden.
As well as, indoor cameras that provide video surveillance of all the rooms in your home and detect the presence of potential intruders.
How to remotely monitor your home using your smartphone?
 If your camera is connected to Wi-Fi all you have to do is install your surveillance camera's associated application. This allows you to monitor your home remotely on your smartphone. Wireless connected surveillance cameras allow users to access live video of their homes 24 hours a day, making it possible to monitor both the interior and exterior of your home with your smartphone. The majority of connected cameras are infrared. This means if you are not at home, you can still gain night vision of the rooms in your house in real time.
There are many advantages to monitoring your home via your smartphone:
Access to a live, global view of your home whenever and wherever you are
Instantly detect the presence of one or more intruders on your property
Keep an eye on your pet
Quickly spot anomalies such as a water leak or a window left open
The smartphone application associated with the Netatmo Smart Outdoor Camera allows you to precisely detect what is happening in your home. You can benefit from high-quality image resolution with full HD video, even when viewing on your smartphone. The Intelligent Outdoor Camera also has a long-range detection of 20 metres during the day and 15 metres with its infrared vision at night.
Being able to constantly keep an eye on your home offers a clear advantage, but nowadays we use our smartphones for so many tasks that the notifications can build up… The Netatmo Security smartphone application only sends the notifications you really need. This can be set-up by defining the areas you would like to be monitored and then registering known faces (even your pet can be registered).
On the application you can go to the menu to customise your notifications, with three available options:
Receive an alert and a video recording
Receive only a video recording
Receive nothing
 Remote surveillance cameras via smartphones and voice assistants
 The smartphone is an incredible ally in remote home security. When at home you can also observe other rooms via a connected screen by pairing the Netatmo Smart Outdoor or Indoor Camera with your Google Assistant or Amazon Alexa.
For example, with the Amazon Alexa all you have to say is "Alexa show me the bedroom/living room/entrance/garden" and the video from your camera will be displayed live on your connected TV screen.
How do wireless surveillance cameras that share live footage to your phone cost?
 The entry-level price of surveillance cameras can range upwards of €30. For cameras with more advanced features (better resolution, detection at a greater distance, high-performance night vision system, etc.), you can expect to pay around €400.
The Netatmo Smart Indoor Camera is priced at $199.99.
The Netatmo Outdoor Smart Camera is priced at $269.99.
The Netatmo Outdoor Smart Camera with Siren is priced at $319.99 
Netatmo Smart Cameras do not require a subscription after purchase. You will therefore be able to benefit from all their services (notably the personalisation of notifications) free of charge.