Sometimes, a burglary can take place in your home without actually looking like a burglary at all. More often than not, burglars will break into a property subtly, so as not to attract the attention of passers by or law enforcement. These types of burglaries can often be very tricky to prove to your home insurance company, so we'll take a closer look at them here.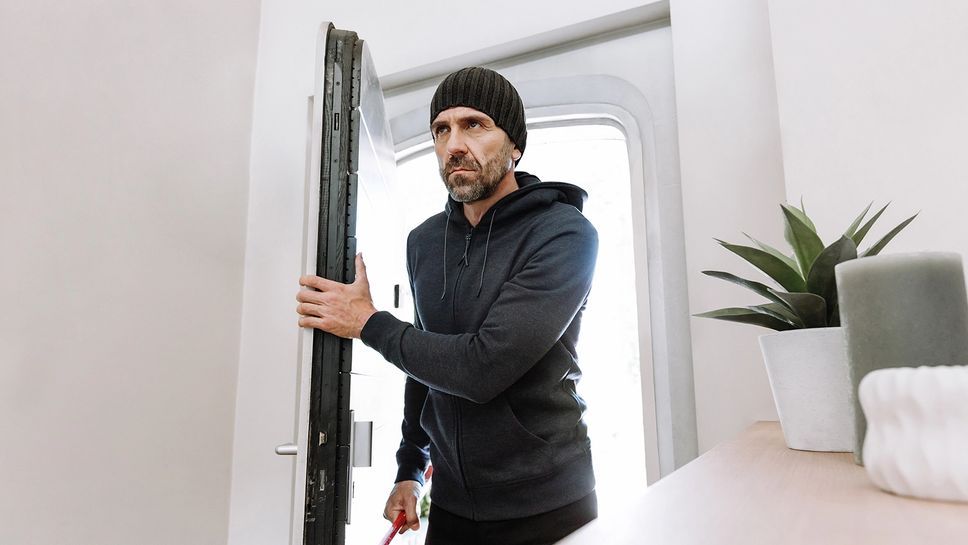 How do burglaries with no obvious signs of a break-in happen?
No doors have been forced open in the building, no windows are broken, your home security system didn't alert you to the fact that there was an intruder in the house… so how did the burglar actually break in?
Burglars use a variety of techniques to enter a building while leaving no obvious signs of a break-in or theft.
Burglars might steal the keys to your house, allowing them to enter the building without leaving any telltale signs of a break-in. Burglaries are also often carried out using fake keys or copied keys.
So, make sure you keep track of everyone who has a key to your property; while it's a good idea to let a trusted neighbour have a spare for emergencies, you should always be very careful.
If you've lost the keys to your house or building with no explanation, it might be an idea to change the locks in order to keep your home secure.
Potential burglars may have stolen the keys from you without you realising, knowing they're for your home's door.
The same applies for any low or ground floor windows around your home. Strong, key operated locks can be effective security measures to install on these potential points of entry into your property.
But, you need to make sure the keys are safely stored well away from potential burglars' reach.
Burglars might also pose as door-to-door salesmen or technicians from your home's gas, electricity or water companies. This gives them the chance to approach the house and take note of your home's security features.
Plus, you might even willingly open the front door for them, allowing them free entry to your home to carry out a burglary.
If a caller mentions "the Waterboard", don't open the door to them. Home water providers in the UK actually no longer use this term, so the individual is more than likely to just be posing as a legitimate metre checker.
If you're unsure about an individual who's approached your home, you can always call the company they claim to be from to double check that they're scheduled to be at your house.
Make sure you use a contact number that's provided by the company itself, rather than by the person calling at your home.
That way, you can make sure you don't accidentally allow anyone intending to commit a crime to freely enter your property.
Burglars may also take advantage of doors and windows left open on your property during periods of warmer weather to enter into the home.
If you're out enjoying the sun, just make sure that your house is still safe from potential thieves.
The same applies to doors and windows that you might leave open, say, if you're painting the house. Ladders left leaning against the side of the building also provide tempting entry points to upstairs floors (where easy to steal valuables like jewellery, watches and passports are kept).
Potential burglars will spot these opportunities to easily and subtly commit an offence, without anyone even noticing that they've entered the building.
If you don't know the person who's at your home's front door, it's safer not to open it. To increase your home's security and your own peace of mind, you might want to install a Smart Video Doorbell Netatmo. See who's at the door using the high quality video function and communicate with whoever is on your home's doorstep.
Protecting your home against this type of 'no break-in' burglary
When you purchase, or move into, a property, you might want to take out an insurance policy on your new home.
This may help to protect your home from theft and similar offences, as well as to help you recover compensation for any valuables that are burgled from the property.
But, not all home insurance policies cover these types of crimes, especially in the case of burglaries with no clear signs of an actual break-in at the home.
Make sure you read the fine print carefully, in order to effectively insure your home against crime.
How can you prove there's been a burglary without the burglars leaving obvious signs of breaking in to your home?
If you know a burglary has been carried out on your property, make sure you inform the police as soon as possible.
Leave everything in your house as you found it: you don't want to touch anything that might help law enforcement officers to follow up on the offence.
Your home insurance company may also require evidence of the burglary, in order to compensate you. You may have to give a further statement, as well as provide copies of official documents from the police.
Of course, evidence of the burglary will play a vital role in securing your home's insurance payment.
The most effective way to provide evidence of a burglary on your property – especially when there are no obvious indications of forced entry – is to provide law enforcement and your insurance company with security footage of the activity around your home.
If you hadn't yet installed a home security system at the time of the burglary, footage from public CCTV cameras might be able to provide this evidence.
In terms of installing your own home security system, this is one of the most effective ways to deter – and also effectively prosecute – crimes that may take place on your property.
Have you considered installing a CCTV surveillance system in your property? Netatmo's Smart Indoor and Outdoor Cameras are easy to install and use. If a burglary happens in your home, but the burglars responsible don't leave any signs of a break-in, footage from your house's security cameras could provide vital evidence of the theft for both the police and your home insurance company.