If you're thinking about installing a home security system, you may well have been thinking about the costs of the various alarms, motion sensors, security cameras and other monitoring systems. There's a lot to be thinking about, so let's start with the basics: what should you bear in mind when you're browsing home security systems? And how much do they actually cost?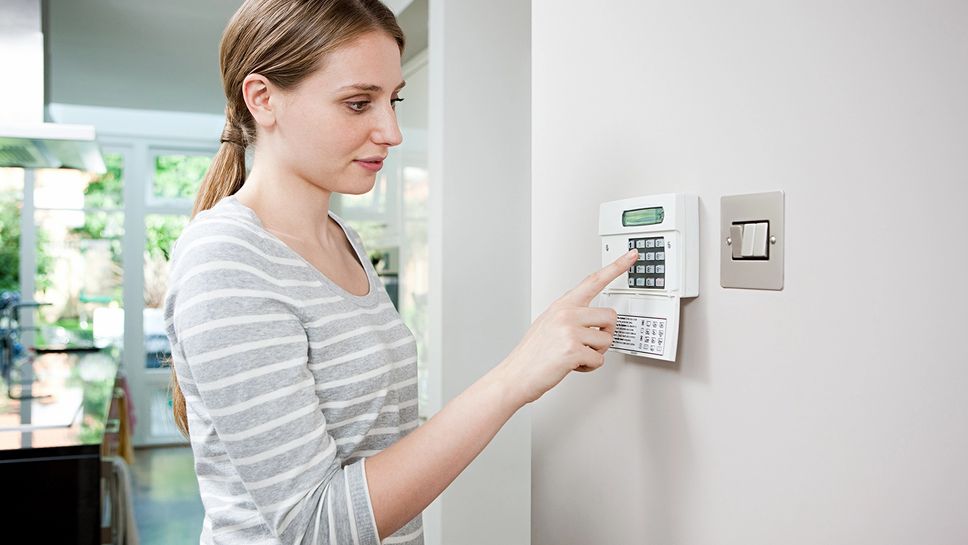 What are the main points to think about before you install your new home security system?
As with any product, prices will vary according to:
The manufacturer
The quality of the home security devices
Whether the security systems are wired or wireless
The installation costs
The range of additional home security accessories that might be on offer
The price of any potential subscription packages that come with the system
So, let's take a closer look at those features now.
Home security systems: wired or wireless?
Wired home security systems are a reliable security option, but wireless systems are becoming increasingly popular for various reasons.
Basic home security alarms will start from around €150, while a full home security set-up – including motion sensors, security cameras and a security alarm, for example – could set you back several thousand Euros. On average, a home security system is around €800.
Many smart, wireless home security systems boost your ability to remotely control your home security system. For example, you could connect your security alarm up to an app on your smart devices.
Then, you'll get an instant notification if a burglar triggers the alarm. Plus, you'll have total control over deliberately triggering, or turning off, your home security alarm from wherever you happen to be at the time.
Home security systems: what about the cost of installing the system?
This question brings us back to the wired versus wireless security systems topic. Wired security systems will need to connect up to a wiring system in the walls of your home. So, if you're installing a security system in a home that's currently under construction, a wired system could be the ideal choice for you.
If not, why not consider a wireless system to save on installation costs? Wireless security systems are generally easier to install, giving you more flexibility to go for a DIY option, rather than a – usually expensive – professional installation.
Home security systems: will you be able to add extra home security accessories?
Wireless, smart home security systems give you lots of flexibility here – more on that below.
Let's talk costs: sold individually, home security accessories are likely to only cost you a few Euros. So, you can add extra motion sensors, door and window opening sensors or a basic home security alarm at a relatively low price.
Of course, some home security accessories do carry a higher price tag. A multifunction security camera, for example, is likely to set you back several hundred Euros.
Home security alarms: are there additional subscription costs?
You might be looking to install a Global System for Mobile (GSM) home security alarm. This option increases the control you have over your home security: if a burglar triggers your home alarm, GSM security systems let you know via a text message.
Much like with a mobile phone, you'll need to pay additional subscription costs to keep your GSM home alarm connected up to the cellular network. Without the connection, you won't receive the text messages that let you know that your home security alarm has been triggered. So, it's vital you bear these extra costs in mind.
Or, you might be looking for home security systems that immediately notify your home security provider if they detect a burglar or intruder in your home. If that's the case, you'll also have to pay for this surveillance service, as well as covering the costs of installing the home security accessories themselves.
Smart home security systems: what are the additional benefits?
So, we know that wireless systems give you much more control over how and when you install your home security systems, as well as remote control over when they're turned on and off.
As long as you make sure there's a strong wireless connection for your home security devices to connect up to, you'll be able to continue adding home security accessories to your system.
Of course, you can always add devices that increase the power of the wireless network around your home. That way, you can make sure your home security system is functioning optimally, as well as making sure you can position your smart wireless cameras, sensors or alarms wherever you like around your home. Make sure you cover the areas that would be most vulnerable to a burglar!
Interconnect your security alarm, motion sensors, door and window opening sensors, security cameras and any other monitoring devices to create a fully integrated home security set-up.
You'll avoid the subscription costs involved in GSM home security systems, as you'll receive any alerts from your home security set-up via the apps on your smart devices. Plus, you'll have total control!
But what about smart home security systems that work for you even while you're away? Install a smart security system and you could access features such as pre-recorded noises that simulate human presence in the home, or remote control over the lights in your home that make it look like people are moving from room to room.
These features could act as an effective deterrent to a potential burglar, as they're unlikely to target a house that looks like it has people inside. If your home is going to be standing empty while you're on holiday, for example, installing a smart security system could be a great option to keep your home secure.