If you're considering installing a security alarm system in your home, there are multiple factors you'll want to bear in mind. Are you interested in smart home security devices that you can control remotely? Is a wired or wireless system better for your home? Do you want to install motion detectors, video cameras and smart sensors, as well as your security alarm system? We'll take a closer look at all these burglar deterrent systems here.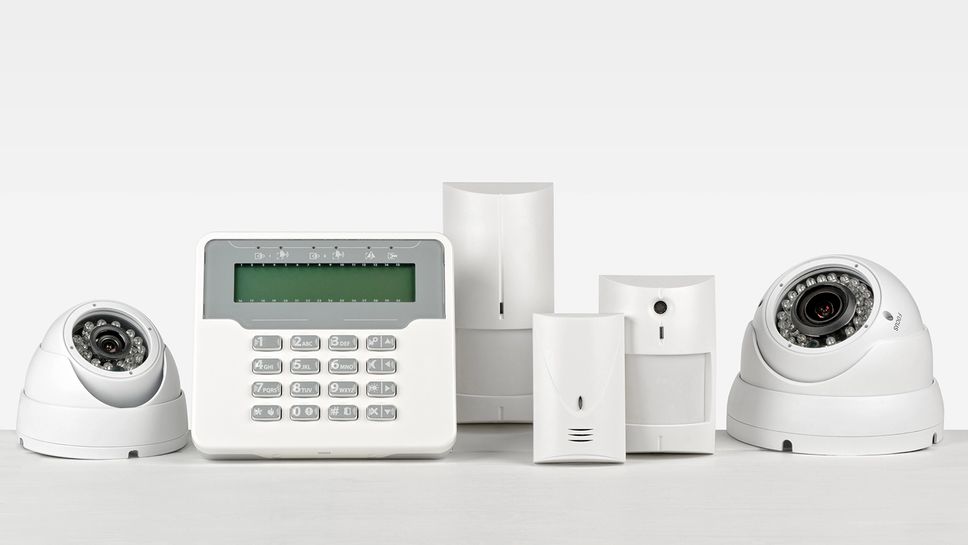 Smart security alarms for your home
While standard security alarms do act as an effective burglar deterrent, smart home security systems go several steps further towards keeping your home secure at all times.
With integrated motion detection and facial recognition technology, a smart security system in your home will make sure your security alarms only go off when absolutely necessary.
That way, you won't need to worry about your home security systems creating anti-social levels of noise.
Plus, the option to remotely control your home security system is a huge advantage.
Via an app downloaded to your smart devices (your smartphone or tablet, for example), you can control your home security set-up from work, or even while you're on holiday.
Remotely monitor what's going on in your home via smart security cameras, or adjust their recording angle from wherever you are. Similarly, you could trigger your home's security alarm in response to an alert from your smart sensors or motion detection technology.
As a pro-active home owner, smart security systems give you control over keeping your home secure, as well as added peace of mind while you're away from home.
Your home security alarms: wired or wireless?
If you're installing some of the latest smart home security technology, it's very likely to be wireless.
Wireless home security systems are a go-to for home owners who prioritise flexible home security systems at a competitive price.
Wireless home security systems (whether they include alarms, security cameras, smart sensors or motion detectors) are cheaper to install, as you're less likely to need an accredited expert to help you. If you're comfortable with home DIY, why not install your new wireless security alarms yourself and save on costs?
With wireless home security systems, you have total freedom to position your security alarms, security cameras, smart sensors or motion detectors in the most strategic locations around your home.
Plus, if you're moving from home to home, you can easily move your wireless home security gadgets with you.
A wireless home security system means it's very straightforward to add further security elements over time (an additional security camera to cover your new home extension, for example). With wired security systems, this would likely be far more complex and expensive.
Many of these devices will operate using your home's WiFi connection, so just make sure your home security devices are well within its range.
Research the best home security alarm systems for you
So, we've taken a look at some of the main points to bear in mind when you're browsing home alarm systems. Choosing the best one for you can still be complex, so let's break down the key points we've covered, as well as some other areas to consider:
Is the alarm system wired or wireless?
Wireless alarm systems will offer you more flexibility to change or increase your home security system in future, as well as lower installation costs.
Plus, you can move your wireless alarm system with you if you're renting, or likely to buy another home.
Is the alarm system a smart system?
Smart security systems offer the latest innovations in home security.
Remotely control your home alarms via an app on your smart devices to give you complete control of your home security. Anywhere, anytime.
Are your smart alarms within range of your home WiFi?
Smart home security systems will often depend on a strong connection to your home WiFi.
When you're planning the installation of your new home security alarms, make sure you bear this point in mind. A weak Internet connection will compromise how effective your alarms are against potential intruders.
How is your home alarm system controlled?
We've looked at smart home security systems that can easily be linked up to remote control apps on your smart devices.
Many home alarm systems will also be operated by a keypad device within the property.
With a wireless security alarm system, it should be simple to configure the alarms and keypad to function correctly. With a wired home security system, this may be more complex.
Will your home alarm system comply with regulations?
Home owners and landlords have the right to install home security systems on their properties.
However, home security alarms are liable to cause a public nuisance if they're faulty, badly maintained or too sensitive – this will mean your security alarms go off even if there's not, say, a burglar actually in your home.
If your home alarm system is thought to be a public nuisance, you could be fined and made to cover the local authorities' charge for disabling your security alarms (or wider home security set-up).
If you're controlling your smart home security system via an app, you will be responsible for using your home alarms with the appropriate level of discretion.
Have you done your home security system research?
Remember, product comparison websites can be a useful source of information about the best home security options out here.
You should also always ask for an installation price quote if necessary, before you settle on your new home alarm system.
Make sure all the people living in your home know how to trigger – and turn off – your new security alarm system, as well as how to use the connected app if you've installed a smart security system. This will help to keep your home more secure and prevent unnecessary triggering of your alarm system.