Been inspired by your friends' new video door entry systems? Think they're a great way to update your home security? Interested in all the latest features, like reliable intercom audio, a high definition video monitor, or fuss-free access and remote control? You're in the right place.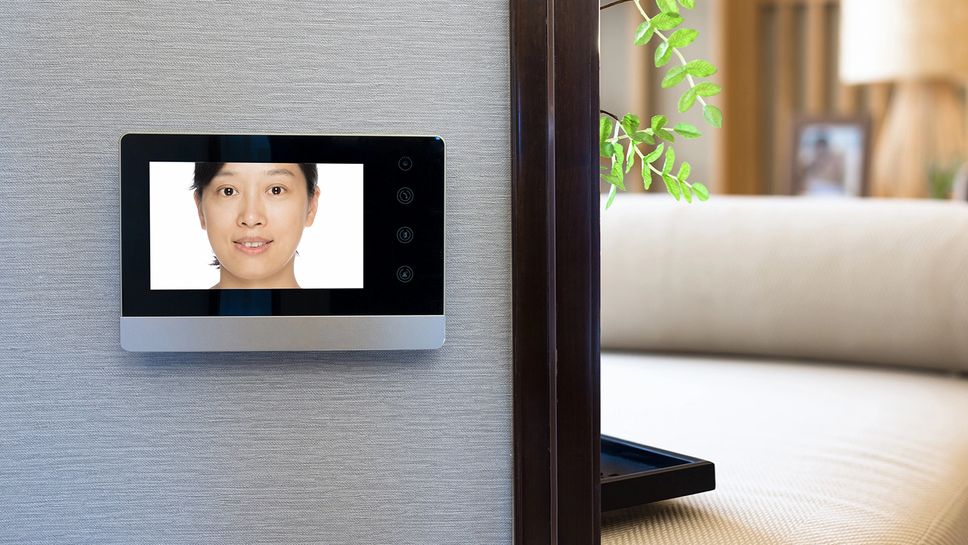 Intercom or videophone: what's the best security kit for you?
They're both door entry systems that can be a real asset to your home security set-up.
So, what's the difference between an intercom and a videophone? Know the facts and you'll be able to make the right choice about what's the best piece of home security kit for your property.
Standard intercoms allow you to speak to the person who's rung your home's doorbell, interacting with them before you decide to let them into your home. You might even be able to remotely control the entry system via an internal monitor that's situated within your home.
You'll be able to speak to your visitor via the intercom audio function, but you won't be able to view the visitor.
By contrast, a videophone includes video technology, as well as an audio function.
With an added camera, you'll be able to see the person who's outside your home in real time. Plus – if your smart home security is connected up to your home WiFi and you've downloaded the relevant apps onto your smart devices – you'll be able to stream the live video footage from the videophone camera onto your smart phone, for example.
Depending on the product that you select to form part of your home security system, you'll be able to install your home's new videophone via a wired or a wireless connection.
While wired connections are the more traditional option, wireless installations could provide you with more flexibility at a reduced cost.
Whatever installation option your choose, a videophone is one of the best ways to increase your levels of home security, ensuring that you know the person who's outside your home before opening up the door.
You can easily install a Netatmo Smart Video Doorbell as part of your home security system. Install the kit to upgrade your existing doorbell – you can even keep your original doorbell chime, if you'd like to! Netatmo's Smart Video Doorbell can be used as a videophone or a video intercom entry system and includes a whole range of features to enhance your home security: a security camera with night vision, high quality audio to allow you to speak to your visitor, remote control of the door entry system and security video images streamed directly to your connected devices. Keep your home smart and secure with a Netatmo Smart Video Doorbell!
Helping you to choose the right security kit for your home
Budget will – of course – dictate how many additional security features you're able to incorporate into the video door entry system that you choose for your home. Let's take a closer look at the technology that's on offer:
Video intercom connected to home WiFi
Smart home security systems will allow you to connect the kit up to your home WiFi network. This type of home security kit will allow you to have more flexibility when you're interacting with your video intercom or videophone. In the case of videophones, you may well be able to view live video footage on your connect smart devices.
Security camera with night vision technology
Night vision functions are an unquestionable asset to your home security. Include night vision within the CCTV camera incorporated into your video door entry system to view and record potential intruders.
Videophone with integrated motion detection sensors
Take your home security up a notch with motion detection sensors integrated into your video door entry system.
Videophone with integrated remote control for doors and gates
You'll be able to use the control panel keypad to remotely open your property's doors and gates from inside the home. Or, you could integrate motion sensors into the gates themselves, so that they open up automatically. Control access to your home, however you want to.
Interior monitor screens
You'll be able to place these interior monitor screens around the home, enabling you to interact with the person outside your property via audio and video connections.
Screen and video quality
Top of the range home security kit that doesn't let you view the video footage properly? What's the point of that?
Good question: make sure the video quality is good enough to give you a reliable view of who's calling at your home. Take a look at whether the door video entry system will give you CCTV images in colour or in black and white, too.
Screen dimensions
A larger screen will enable you to view who's outside your home more easily. This is an especially important factor to bear in mind if you're looking to install a video door entry system for a home with elderly residents.
Durability of the external entry system kit
Part of your video door entry system will be situated outside your home, so you'll want to make sure that it's appropriately weather-resistant. You won't want heavy rain or strong winds compromising your home security, especially after you've invested in and installed all the kit! So, when you're browsing for home security kit, make sure the components are as durable as you'll need them to be.
Video storage options
Make sure that – however you choose to store your home security system footage – you're complying with the latest data protection regulations.
Anti-vandalism elements included in the door entry system
The latest video door entry system kits will often be able to notify you – via the connected apps on your smart devices – if someone tries to tamper with the external part of the kit. Then, you could remotely speak through the intercom to deter the potential intruder, or trigger your home's security alarm to achieve the same effect. This remote control means you can keep an eye on your home security kit from wherever you are, including while you're away on holiday.
Netatmo's Smart Video Doorbell includes the latest anti-vandalism technology. So, if any potential intruder tries to disable your video door entry system, you'll get a notification via your connected smart devices. Resolve any home security issues before they've even happened! Plus, we offer ultra-secure local storage cards for your video footage, that only you will be able to access. High quality, secure storage at no additional cost!