In the UK, landlords are legally required to install smoke alarms in their properties. Smoke detectors are essential – and affordable – elements of an effective home fire safety system. So, how can you make sure you're choosing the right smoke detectors for you and your home?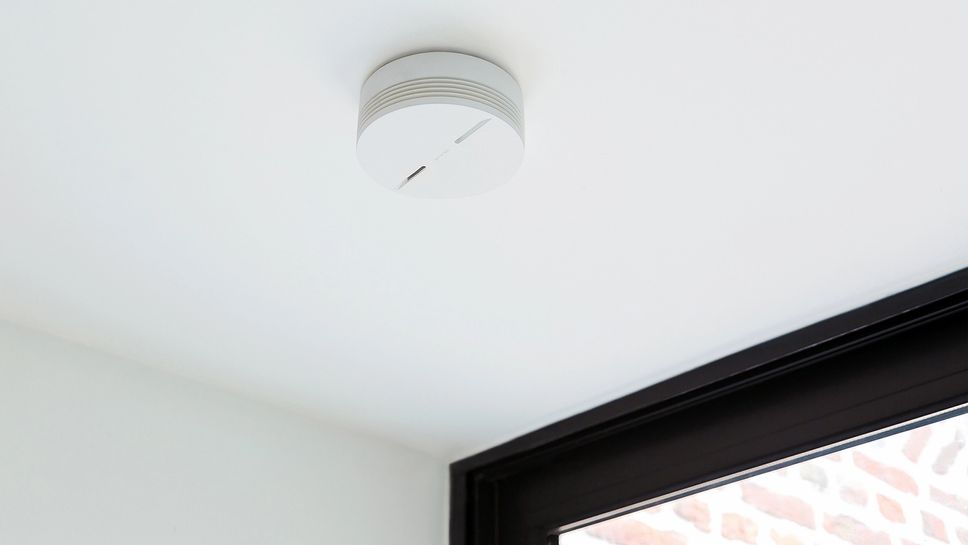 Smoke detectors: the basics
How long can you keep your smoke detectors for? Is wired or wireless the right way to go for your home? What about smart smoke detectors? Let's take a closer look.
Smoke detectors have a lifespan of 10 years
You'll need to replace your home's smoke detectors – the smoke detector itself, that is, not just the batteries in it – every 10 years. In the meantime, check the detector batteries regularly.
Smoke detectors: are wired or wireless devices the right choice for your home?
If you choose to install wired smoke detectors in your home, they'll be connected up to the mains electricity.
Or, you could go for wireless smoke alarms that run on batteries. Wireless smoke detectors could be the perfect option for your home if you're looking for more flexibility in your fire safety systems.
Plus, wireless smoke detectors could save you on installation costs, as they're easier to install yourself.
You might want to take a look at smart smoke detectors that let you control and check the devices straight from a linked app on your smart devices.
In the UK, landlords are required to check that the property's smoke detectors are fully functional on the first day of each new tenancy in their premises. After that, it's the tenants' responsibility to make sure the smoke detectors are working. Government guidelines recommend checking your home smoke detectors at least once a month. Make sure your smoke detectors are fully functional to keep your home safe – check the batteries and the alarm function.
Where should you install your smoke detectors?
You should install your smoke alarms on the ceilings of the hallways and landings of your home (the areas that residents would use in an evacuation).
Smoke alarms are designed to pick up on other substances besides smoke. They'll detect non-toxic fumes, such as steam from your home's kitchen or bathroom.
So, if you were to install smoke detectors close to the kitchen or bathrooms in your home, they'd probably be triggered by steam coming out of those rooms.
You'll want to avoid those types of false alarms, as they'll cause unnecessary panic – and irritating beeping noise – within the home.
But, it's still a good idea to install detectors in your kitchen to effectively protect your home from fires.
You could consider installing heat alarms in the kitchen and save the smoke detectors for others areas of the home, where cooking steam won't set them off.
Smoke detectors are also designed to pick up on toxic fumes that might be released in the home, like carbon monoxide.
But, if you're a UK landlord, you're also legally required to install carbon monoxide detectors in areas of the home that contain devices burning solid fuel (like wood or coal-burning stoves).
You'll want to install your detectors at approximately head height and between 1 and 3 metres away from the potential source of carbon monoxide.
Faulty home gas appliances could also release carbon monoxide, so it's wise to install carbon monoxide detectors close by.
Did you know that if your smoke detectors are beeping, it might be time to change the battery? Many smoke alarm models are designed to alert you when it's time to change the batteries in the alarm
7 key factors for choosing smoke detectors for your home
So, let's sum up: smoke detectors are an incredibly important part of setting up a fire safety system in your home. It's also vital that landlords install them in order to meet legal fire safety requirements for domestic premises.
When you're choosing smoke detectors for your property, you might find the following points helpful:
Smoke detector power supply: mains power or batteries? Work out what's best for your home, bearing in mind installation costs and the potential need for flexibility.

Smoke detector lifespan: smoke detectors have a lifespan of 10 years. Install new detectors every decade, as well as regularly checking their batteries over that time. Check the lifespan of your smoke detectors though, as many manufacturers produce smoke detectors with lifespans shorter than the standard 10 years.

Smoke detector installation: choose where's best to install your smoke detectors in your home. Remember, you'll most likely want to place them in your property's hallways and landings. Use heat alarms in your home's kitchen instead, as smoke detectors will also be set off by cooking steam.

Silence function: your home smoke detector will likely have a silence function so that you can turn off the device if it's beeping non-stop for no reason. Many smoke detectors will start beeping again after a few minutes if they're still detecting smoke – this automatic restart function helps to keep your home safe from fires.

Smoke detector design: with so many smoke detector models out there, you'll be able to choose the design that best suits your home.

Smart smoke detectors: looking to take your home fire safety system up a notch? Try out smart smoke detectors that you can link up to your smart devices. Control and test them right from your smartphone!

Function testing: check your smoke detectors regularly – at least once a month. You can test your detectors remotely and easily if you install smart smoke detector models in your home.
What if we told you that you can install a smoke detector in your home that never needs its batteries checked? Sound interesting? Check out the Smart Smoke Detector from Netatmo. It's got a 10-year battery life, so you'll never have to change the batteries – just replace the smoke detector once it's reached the end of its useful life in your home. Plus, the smart app will remind you to check the detector's alarm function when you need to.