Home security alarms can act as a really effective deterrent against a burglar or intruder. Install reliable, visible devices and they might be put off from targeting the property. With so many products out there for monitoring and protecting your property, it can be tricky to find the best way to protect your abode.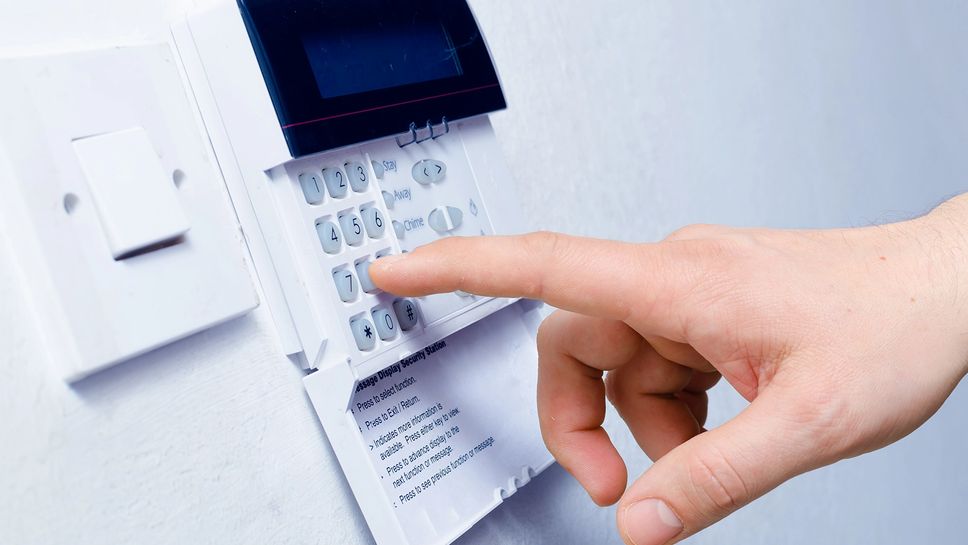 Home security alarms: what are the basics you need to consider?
Is your home a house or an apartment?
If you're in a house, you may well have total freedom to install whatever home security systems you like. If you're in an apartment block, you'll need to check with your building management team or landlord before you set up your new home security kit.
Are wired or wireless home alarm systems the right choice for you?
In terms of price, wireless systems have the upper hand. Rather than dealing with the high price of installation costs, you might find it easy enough to take the DIY approach to installing your own wireless security system.
Plus, wireless home security systems – including a wireless alarm – are the most flexible option. Add new pieces of kit as and when you want, without the need for complex internal wiring. Plus, if you're moving, it's easy to take your wireless set-up with you so you can use it in your new place.
How will your home security systems co-ordinate and react if there's an intruder in your home?
It's totally up to you to choose how 'smart' you want to make your system. If we're talking home security alarms, there are various different options to choose from:
Straightforward siren alarms, without any smart remote control options
A loud alarm siren is one of the most basic ways to put off an intruder in your home. If your security alarm goes off and attracts attention to your abode, the intruder might be forced to leave the scene before they have a chance to steal anything. Plus, as we've seen, a visible alarm can act as an effective deterrent to put off a potential burglar, who may fear that the siren will ring out at any moment.
A GSM home security alarm is linked up to the surrounding mobile network. So, if your GSM security alarm is set off by an intruder or burglar in your home, you'll get a message letting you know. One drawback of this type of product – and this applies to the additional options we'll see, too – is an increase in price. Much like for a mobile phone, you'll need to pay to keep your home GSM alarm connected to the mobile network.
A smart home security alarm that will alert you via a notification on your smart devices
Smart home security systems will most likely use the WiFi network in your home. Simply link your security accessories – including your alarm – up to the wireless network and they'll be able to send you instant notifications via an app on your smart devices, if there's an intruder or burglar in your home. Many work with Google Nest and Amazon's Alexa.
Home security systems that simultaneously alert your home security company
Some home security systems will offer the option to link the devices in your abode straight up to your security company's surveillance services. So, if an intruder triggers your home security systems, the security company will be able to respond accordingly. If there are especially valuable items in your home, this could be the arrangement that gives you most peace of mind.
Remember, a smart home security system will give you total remote control of the devices in your home. You'll be able to set off, or turn off, your security alarm, motion sensor, door and window opening sensors or security camera, for example, anywhere, anytime. Simply link your smart devices up to your home monitoring system!
Your smart home alarm kit: what wireless accessories can you include?
If you're seriously considering installing a security alarm in your home, it's worth thinking about what other accessories you might want to use in future.
So, let's take a look at the main types of home security product on offer:
Main security alarm
A wireless or wired security alarm might be the best choice for you. Similarly, you might choose to set up a GSM or PSTN alarm, depending on how you'd like your home security system to work. Plus, you'll need to think about your chosen control method: keyboards, LCD screens, touch screens, remote control options and virtual control panels via an integrated smart app are all great control options to consider.
Smart motion sensors
Smart motion sensors can focus either on monitoring the perimeter of your property, or on movements within the area around your home. Either way, motion sensors are a reliable way to pick up on a burglar entering your property. Connect your smart motion sensor up to a smart security camera for enhanced monitoring and you'll be able to detect movements in and around your abode quickly and easily.
Smart door and window opening sensors
Immediately receive notifications if an intruder enters – or attempts to enter – through any door or window. Smart door and window opening sensors are sensitive enough to pick up the subtle vibrations that indicate that a burglar is trying to prise open a door or window. So, these smart motion sensors are a great way to increase your security at a reasonable price. Think carefully about where you position this type of kit: a back or side door, perhaps, or lower floor windows that would be more vulnerable to an intruder.
Smart security cameras
Security cameras are an essential monitoring product to include in any comprehensive smart home security system. A video camera is a smart way to keep track of any comings and goings while you're away. If you're considering installing smart security systems in your home, why not check out the Netatmo range of Smart Indoor and Outdoor Cameras?
Install a wireless home security alarm and you'll have total freedom to continue adding more smart home security accessories to your integrated system. Keep adding new products as and when you need them – and when the price suits you!