Domestic fires could affect any home, at any time. According to statistics published by the UK government, the emergency services responded to 37,740 domestic fire incidents in the country between 2017 and 2018. The home fires caused 398 fatalities. So, how can we better understand these statistics and reduce the risk of fire-related incidents in our homes?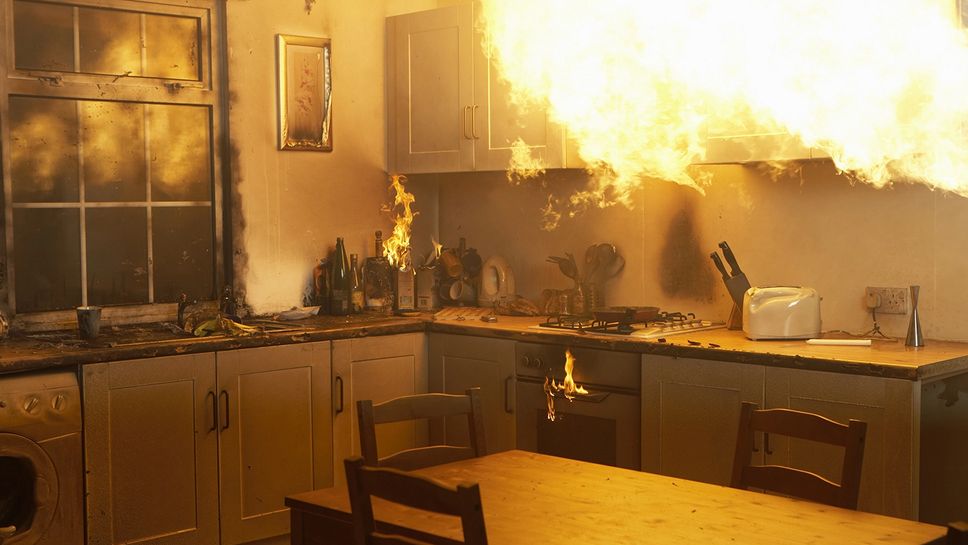 Analysis: key fire incident statistics
How do the statistics break down?
Let's take a closer look at the spread of domestic fire incidents over the 2017/2018 period:
• England: 30,813 domestic fire incidents, coming to 554 fires per 1 million inhabitants
• Scotland: 5,310 domestic fire incidents, coming to 979 fires per 1 million inhabitants
• Wales: 1,617 domestic fire incidents, coming to 517 fires per 1 million inhabitants
So, while England recorded the highest number of domestic fire incidents over the 2017/2018 period, Scotland had the highest average number of fire-related home emergencies based on national population size.
What are the causes of fire-related fatalities?
Most fire-related fatalities are caused by smoke inhalation as a result of the fire, rather than by the fires themselves.
For the period between 2017 and 2018, 25% of the fatalities in domestic fire incidents were caused by burns sustained in the fires.
When do most fire incidents occur in UK homes?
As you might expect, domestic fire incidents peak in the winter months, when more people are using fuel-burning devices – such as wood or coal-burning stoves – in their homes.
Data produced by the UK government has shown that domestic fire incidents are most frequent in December, between the hours of 6pm and 8pm.
Did you know that the 1999-2000 period has the largest number of fire call-outs on record? During that period, the UK emergency services responded to 71,082 fire-related incidents.
What are the most common causes of house fires in the UK?
The following provides a breakdown of the top four specified causes of domestic fire incidents across the period from 2017 to 2018, according to UK government statistics:
• Cooking appliances: 48.3%
• Other electrical devices: 12.8%
• Electrical distribution faults: 11.9%
• Materials used by smokers: 7%
These statistics – as well as other research – demonstrate that cooking appliances are by far the most common cause of house fires in the UK. So, it's important that you've got fire safety systems in place in and around your home's kitchen, to keep your home and family safe.
If you're looking to increase fire safety in and around your kitchen, consider installing the following devices:
Smoke alarms and heat detectors
Smoke alarms are designed to pick up on other fumes in the home besides smoke. These could be toxic (such as carbon monoxide leaking from a faulty boiler or gas appliance) or non-toxic (such as steam coming from the home's bathrooms or kitchen area).
So, while it's very important to install smoke alarms in your home, you won't want them to be triggered by steam from your kitchen – that would make it a misleading false alarm.
Install heat detectors in your kitchen and keep the smoke detectors for the landings and hallways – anywhere that would be used as an evacuation route if there were to be a fire-related incident in the home.
Fire extinguishers
There are four types of fire extinguishers: powder, water, gas and foam.
Each type contains a different flame-extinguishing substance and is suitable for use on different types of fires.
Bear in mind that foam fire extinguishers aren't suitable for use on fires caused by electrical appliances. As electrical appliances are a major cause of domestic fire incidents, it's wiser to install powder, water or gas fire extinguishers in your home.
Powder, water and foam fire extinguishers need to be replaced every 5 years. Gas fire extinguishers have a longer lifespan, so need to be replaced after 10 years.
Make sure everyone in your home knows how and when to safely use your fire extinguishers.
Fire blankets
Fire blankets are a cost-effective and easy to use fire safety product. They're very useful to keep in reach of your home cooking appliances.
How can you effectively prevent fires in your home or business?
Across the 2017/2018 period, 25% of the homes where the emergency services attended fire incidents didn't have smoke alarms installed.
For the same period, there were 200 fatalities caused by fire-related incidents in homes with no smoke alarms, or smoke alarms that failed to raise the alert when the fire started.
It's vitally important to install smoke detectors in domestic properties, in order to ensure adequate fire safety levels. UK landlords are legally required to install smoke detectors on every floor of their premises that's used as living space.
UK landlords are required by law to check whether these smoke detectors are fully functional on the first day of each new tenancy agreement. After that, it becomes the responsibility of the tenants to regularly check their smoke alarms.
UK government guidelines recommend checking the batteries and alarm function in your property's smoke detectors at least once a month.
Smoke detectors have an overall lifespan of 10 years, so you'll need to replace your home's detectors after that time.
Make sure everyone who lives in the home also knows how best to evacuate the building in the event of a fire, as well as how to effectively use any home fire safety equipment that you've installed (such as fire extinguishers or fire blankets).
There are also legal requirements covering the installation of fire prevention, detection and protection systems in corporate and public premises.
Corporate and public building managers must consider fire safety regulations in terms of everything from the layout of their premises (for example positioning fire doors/fire hoses and specifying evacuation routes and assembly points) to the training with which they provide their employees.
It's common for organisations to have designated Fire Safety Managers or Officers who are responsible for ensuring staff have adequate training to deal with fire-related incidents. They'll also usually ensure that regular emergency fire drills are carried out on the premises.