With such a wide range of outdoor security cameras on offer, it can be tricky to know where to start when you're trying to choose the best outdoor security set-up for your home. Free choice can be a bit of a sticking point! So, let's take a closer look at the features you should bear in mind, in order to choose the best outdoor security cameras for your home.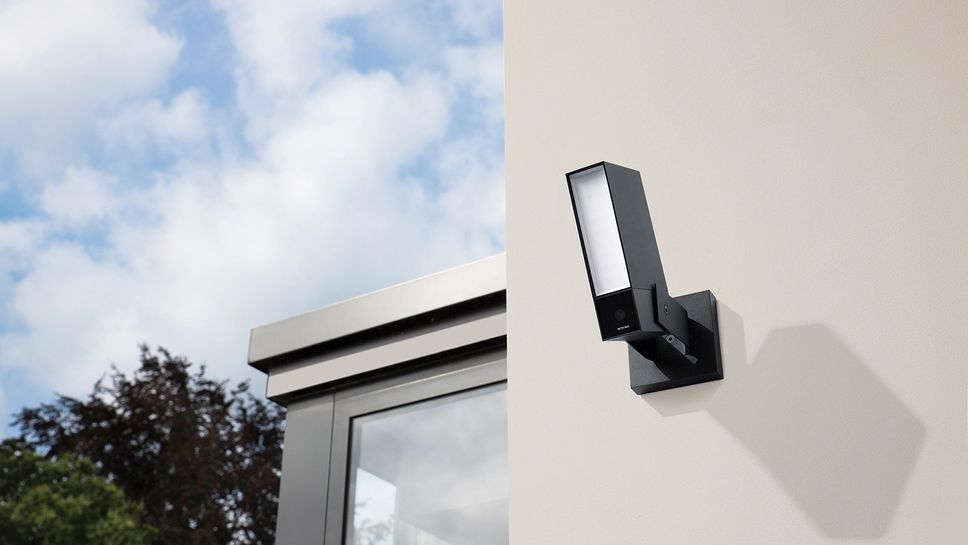 Outdoor security cameras: wired or wireless connections?
You'll want to put up your outdoor security cameras in all kinds of places around your home: in the garden, close to the garage, with a view of gates into the property, on the façade of the home itself, and so on.
You can connect up your outdoor security cameras using a wired or a wireless connection.
A wireless connection may well be the best option for outdoor security cameras, as you'll have much more flexibility in terms of where you can place them. This will help you optimise the camera angles and view, so you can record video of the most vulnerable points around your home.
Wireless installation is also often the best option in terms of price. Wired installation requires an expert team, which obviously entails significant cost to any home owner who's putting in home security devices.
With wireless outdoor security cameras, you could go for the DIY approach: simply install a wireless cam or three yourself and save on mounting installation costs. Plus, you'll get the added satisfaction of setting up your new outdoor security devices solo! Wireless outdoor security cameras are generally battery operated, so are easy to maintain.
Wireless security cameras also give you added smart security capabilities. Connect the right cam model up to your home WiFi network and you'll be able to view real-time, live security footage via connected apps on your selected smart devices.
So, you can view live security video of your home from wherever you are, even while you're away on holiday. Plus, many smart security cameras can be integrated into your wider wireless home security system.
That means you could access the option, for example, of remotely triggering your home's smart wireless security alarm if the real-time footage has shown you that there's a problem at your home.
As a home owner, you have the right to install home security cameras in your home. But, there are strict regulations that control the video recording of public places. Make sure your outdoor security cameras are solely recording video of your property, or ensure you comply with the applicable regulations if the camera view does include shared public spaces.
Outdoor security cameras: how good will the quality of the security video be?
Video from outdoor security cameras could provide the vital evidence you need to prove that there's been a break-in or incident at your home.
Whether it's evidence that you submit to the police or to your [home insurance(https://www.netatmo.com/en-gb/guides/security/burglary/regulation/which-home-insurance-to-choose) provider, the video footage from your outdoor security cameras could be just the ticket to prove your case.
So, you need the video to be as high quality and accurate as possible. To make sure that's the case for your home, there are a couple of things to bear in mind when you're browsing for new outdoor security cam models:
Night vision or infrared vision functions
Invest in additional night vision functionalities if you want to keep your home safe both day and night. In some cam models, additional night vision features might cost you more, so it's up to you as the home owner to decide whether night (or infrared) vision is the best option for your home.
High quality video
If we take into account the potential uses of the home security video – i.e. identifying an intruder or the people involved in an incident at your home – you'll want to make sure your outdoor home security cameras provide the best possible quality video.
High quality security camera lens
Ensuring you've got the best quality camera lens is in line with ensuring you get the best possible quality of video footage. Fuzzy video won't do much in terms of providing effective evidence.
Range of video and range of zoom
Make sure your cameras' view covers all the strategic and vulnerable locations you want it to around your home. As we've seen, installing wireless home security cameras can be one of the best ways to ensure there's enough flexibility in terms of camera view. Plus, you'll want to make sure that the scope of your security cameras includes any areas that would be vital for motion detection, if you've opted for that as an additional smart security feature.
Video storage and deletion
In order to access your security video whenever you may need it, you'll need to ensure you've got a secure video storage system in place. Cloud storage could be the best option for your home, as it's smart, easy and flexible.
Outdoor security cameras: let's talk about additional features
Night vision, battery operation, motion detection, Cloud storage, high quality video, cam design, smart features, outdoor durability… the list of additional features that might be available with your outdoor security cameras is a pretty lengthy one.
All of these additional features will be sure to give your home security cameras an added edge. Some we've already covered, but we'll take a look at a few further aspects here.
Style
Many security camera models have that typical dome-shaped style. You can choose whether you want your cam in that design, or in some of the sleeker shapes on offer.
Customisation
Smart outdoor security cameras will often allow you to customise their operation. So, they won't send you alerts about normal movements around your home, just actual security incidents.
Motorisation
Motorisation allows you to easily alter the camera view. This ties into smart capabilities for remote, real-time video viewing, too. With motorised outdoor security cameras, you can remotely alter the camera angle and view so that you can better monitor what's going on in your home.
Durability
You security cameras will be placed outdoors, so make sure they're well equipped to withstand bad weather.
Automatic lighting
Some smart outdoor security cameras will incorporate automatic lighting functions. If their motion detection features kick in, they'll turn on a deterrent security light.
Netatmo's Smart Outdoor Cameras can be highly customised, so that they'll only notify you when there's an actual incident on your property and not be triggered by normal, everyday movements.