Wireless surveillance cameras can bring you real peace of mind as part of your home security system. The latest outdoor models have additional smart features that make them very simple to install and operate. Forget complicated, expensive wiring: simply link your wireless video cameras up to your existing WiFi network. You'll never miss a movement on your property, whether it's day or night. Installing a discreet wireless camera system has never been easier, and there's a whole range of surveillance models to suit every budget.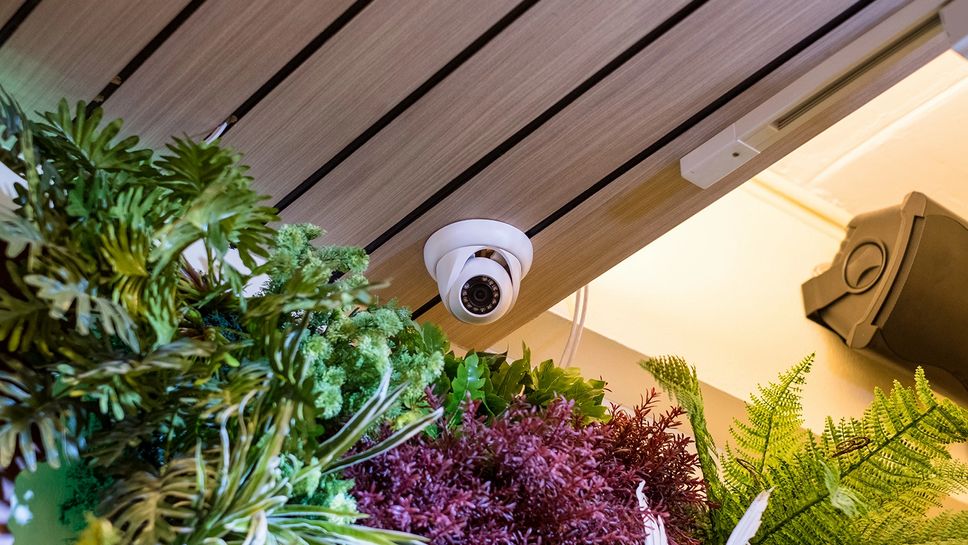 High-tech features
Smart surveillance cameras can be easily integrated into your home's WiFi system. There's no need to worry about fiddling with cables to get them set up and fully operational.
With wireless home security, you no longer need to be concerned about potential thieves cutting your power supply to beat your surveillance system. With the latest technological features and safe Cloud storage, your video footage will be more reliable and accessible than ever.
High-resolution digital imaging, facial recognition, motion sensors and infra-red night vision features make it easy for you to monitor movements on your property at any time of day or night.
Plus, some cameras offer a combined motion detection and automatic light setting that is activated when the surveillance camera detects movement. This works as an effective deterrent as intruders will know they're in full view of your smart home security cameras.
Many wireless security cameras also allow you to control your home security remotely, using applications designed for smartphones and tablets. This feature enables you to keep track of movements on your property while you're away from home.
Forget all the stresses of leaving your property to go on holiday, or even the day-to-day worry of the house standing empty while you're out a work all day. With smart security cameras, you can stay informed with instantaneous alerts across all your devices.
Many wireless video security systems even allow you to remotely adjust your wireless CCTV cameras. There's no ladders or tools involved: with just the click of a button, your security cameras will swivel into optimum position.
Did you know? Wireless security cameras were first created to allow more flexible installation. Tired of being tied down by complex cabling? Wireless surveillance options mean you can install your security cameras wherever you need them most. They're so much more versatile!
Create an entirely wireless smart home security system
One of the best advantages of wireless CCTV surveillance cameras is that they can be linked up to your existing home security system.
Choose the right wireless surveillance camera for you and simply connect it to your home's smart security setup. Let your gadgets do the work for you and keep your home secure. It's completely fuss-free.
Wireless video systems offer more longevity than previous models, as they're built to adapt as technology continues to improve. Wireless surveillance cameras are far easier to update than wired CCTV cameras, so they're the best choice for forward-thinking buyers.
Haven't thought about an integrated wireless smart system yet?
Netatmo can help you to start building your integrated wireless home security today.
Netatmo prides itself on installing intelligent security systems, with components that work in sync to keep your home safe. Integrate our Smart Outdoor Cameras, our Smart Door and Window Sensors and our Smart Indoor Siren into your wireless security system. Install all your home surveillance gadgets using WiFi and never miss an alert again!
Fuss-free storage
Wireless surveillance cameras offer a huge advantage compared to traditional wired models: the video footage is wirelessly transferred to secure storage files.
These storage options retain the cameras' high-quality digital imaging, so you can easily monitor what's going on around your home.
All the security footage is automatically saved on the surveillance cameras' microSD memory cards. Wireless WiFi connection also provides you with failsafe storage: simply save your home's surveillance footage straight to the Cloud. This secure storage option will enable you to review the video whenever you need to.
Plus, optional integrated Cloud storage means there's no need to be concerned about your security camera footage using up space on your home computer system.
It's also possible to amplify your home's WiFi network to ensure all your security cameras operate at optimum levels.
Netatmo Smart Cameras allow you to record and store your video content free of charge. You can also review the recorded surveillance footage remotely, anytime, anywhere. Be alerted immediately if an intruder breaks into your home thanks to the Netatmo Smart Indoor Camera that can recognise faces and gives you access to all its features without charging any subscription fees.
Versatile and weatherproof
Wireless home security systems are perfect if you're a renter, moving from property to property on a fairly regular basis. Wireless outdoor video cameras offer flexible installation but also easy de-installation.
Wireless CCTV cameras are ideal for renters, as there's no need to carry out extensive installation work on the home itself. No wiring means there's absolutely no need to rip open your walls, floors and ceilings to install your ideal home security system.
A wireless video camera system is a far less risky option: there's no point damaging your own home when all you're trying to do is keep it safe!
You may be surprised at how cheap wireless surveillance cameras can be. Easy self-installation means you can really save on the costs of setting up your home's smart security system.
With a wireless surveillance system, you no longer need to worry about re-creating the best home security system each time you move to a new place. Simply take your wireless set-up with you, wherever you move to.
The same goes for homeowners: even if you're set to be living in a property for a while, it's always worth being prepared for the future.
With wireless CCTV cameras, you can simply dismantle your home security system and reinstall it at your new home. The ease of wireless systems means that wherever you're living, you can make it a secure smart home.
Plus, these discreet wireless video cameras are built to last. Durable outer casing and waterproofing mean they'll withstand the elements, keeping your property safe whatever the weather.