The boiler thermostat has become an essential device for gaining added control over your home heat setup. Making your home heat system programmable helps you control your energy consumption, energy efficiency and effect on the environment as you heat your home. The boiler thermostat is an economical and easy to use solution that's very handy to add a smart element to your home heat setup. There are a range of boiler thermostat models out there, including programmable, connected, wired, wireless, combi and smart options. Of course, price varies based on these additional functionalities. So, which boiler thermostat should you choose for your home heat system?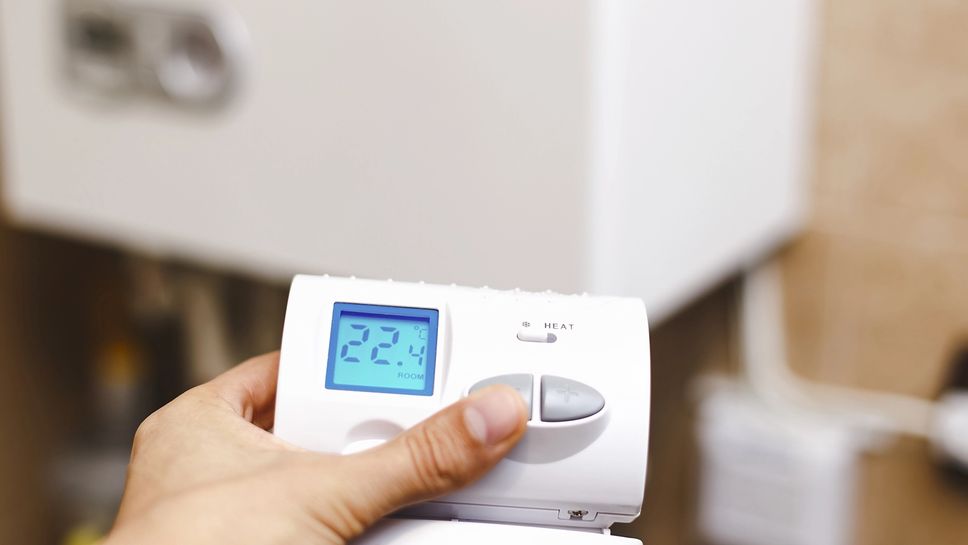 What is a boiler thermostat used for?
Most types of thermostats can be connected up to your home boiler to enable you to better control your home heat levels. This essentially means you can improve your control of the temperature levels and heat emitting power of your radiators.
A boiler thermostat is usually connected up to your home boiler, no matter the type of boiler you use to heat your home (for example, your home boiler could run on solar power, oil, wood, and so on).
A wireless boiler thermostat is placed within a room of your home, rather than on the boiler itself (it just works with your home boiler via its connected link). This type of boiler thermostat, as well as the other types we'll detail later on, gives you precise levels of control over the heat level in each room of your home. You can adjust, regulate and control the temperature in your home heat system (sometimes remotely, depending on the boiler thermostat type).
Boiler thermostats allow you to optimise your heat consumption, how much you need to spend on your heat bills and how much your home heat setup damages the environment. The benefits of a boiler thermostat are widely proven and are largely shared between wired, wireless, smart, combi, connected, programmable and non-programmable models.
Of course, the level of complex functionality is what changes across these types of boiler thermostat. While a basic boiler thermostat is the lowest price option for heat control in the home, a smart and connected boiler thermostat will increase your heat efficiency further.
To best use your boiler thermostat, you'll need to consult the manual in order to understand how to use all its control functionalities. Of course, there will be more complex - and more beneficial - functions with a smart, connected and programmable boiler thermostat! Choose wisely to optimise heat control in your home.
The different types of boiler thermostat models
As we've seen, there are various types of boiler thermostat to suit all needs. Read on as we dive into non-programmable, programmable, connected, wired and wireless boiler thermostat options.
The non-programmable boiler thermostat
This is the oldest type of boiler thermostat, so is the least technologically developed. This boiler thermostat option therefore has the lowest level of efficiency and control precision, but also carries the lowest price tag.
A non-programmable boiler thermostat allows you to control your home heat levels via a manual approach, helping to bring down your home heat bills.
A non-programmable boiler thermostat does offer entry-level control, but a programmable or connected boiler thermostat offers greater advantages.
The programmable boiler thermostat
A programmable boiler thermostat allows better in-depth home temperature control. This leads to greater energy savings and a more efficient heat setup - radiators only emit heat when it's actually needed.
Wired or wireless, a programmable boiler thermostat shows precise heat control information on a display screen. This allows you to control your room temperature as needed.
The connected boiler thermostat
A connected boiler thermostat optimises your home heat control. This type of boiler thermostat takes into account not just your control input, but the ambient environment, to best control your home heat level.
The aim of a connected boiler thermostat is to optimally control the heat flow produced by your home heat setup. Overall, a boiler thermostat can help your household to consume a minimum level of energy in order to achieve optimum levels of thermal comfort in the home.
To get to this heat level, your connected boiler thermostat takes into account a variety of control factors. Overall, it's a smart thermostat device that represents a real step forward in home heat control for energy optimisation.
Wired and wireless boiler thermostat
You can choose from wired or wireless boiler thermostat models. The largest difference between these types of thermostat is the practicality of installing them in your home to control your heat usage.
Wired thermostats need to be installed on your home boiler itself. Wireless thermostats, however, just need to have their wireless receiver connected up to your home boiler. For this reason, wireless boiler thermostats are more practical - you can even control some models remotely from your smartphone or tablet.
No additional installation costs are involved with wireless boiler thermostats, unlike with wired boiler thermostats. This saving can counterbalance the higher purchase price of wireless boiler thermostats.
Have you heard about the Netatmo Smart Thermostat? It's a wireless thermostat that's connected up to your home boiler, giving you greater thermal comfort at home. It's remotely programmable via your smartphone or tablet so that you can maintain optimal heat levels in your home at all times.
How much does a boiler thermostat cost?
The price of a boiler thermostat depends on its level of technology: as we've seen, a wired boiler thermostat will cost you less than a wireless boiler thermostat, for example. However, the more advanced the technology of the boiler thermostat, the better you'll be able to control your home heat levels, leading to greater potential savings on your home heat bills.
Consider your boiler type, the size of your home, your heat requirements and the number of radiators you have in your home before settling on a boiler thermostat to control your heat usage. Boiler thermostats are a smart option for optimising control of your heat levels!