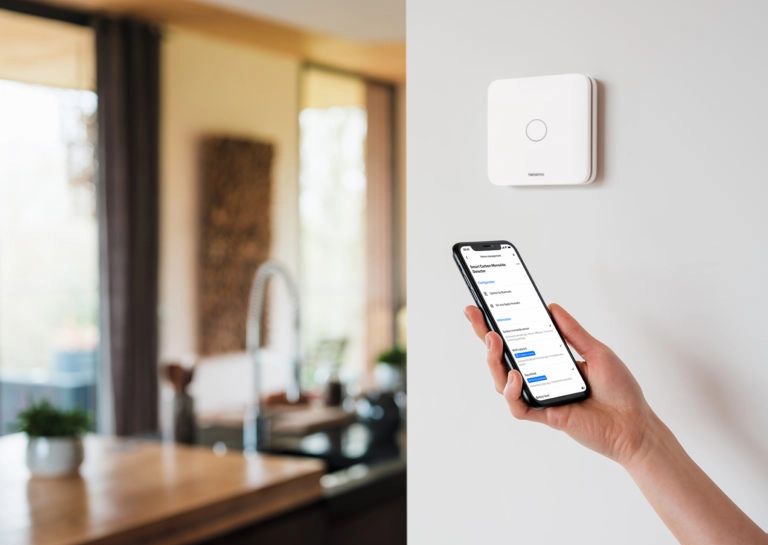 Carbon monoxide is the main cause of death by accidental poisoning with almost 1,000 homes and 3,000 people¹ affected every year in France. It's therefore important to take action and protect your health against this serious risk. 
86% of accidental carbon monoxide poisoning² occurs in the home. Carbon monoxide is an odourless, invisible and non-irritating gas that can be emitted by poorly installed or malfunctioning fuel-burning appliances that aren't checked every year, such as fireplaces, gas cookers and boilers³. 
To avoid the risk of poisoning, it's recommended to install a working carbon monoxide alarm in the home, especially if it has fuel-burning appliances (possible sources of carbon monoxide).  
The Netatmo Smart Carbon Monoxide Alarm protects you against poisoning  
The Netatmo Smart Carbon Monoxide Alarm measures carbon monoxide levels in real time in various rooms in the home. If carbon monoxide is detected, an 85-decibel alarm will alert the user so that they leave their home immediately and call the emergency services. 
If the user's not at home, the Netatmo Smart Carbon Monoxide Alarm will also send them a smartphone notification so that they can react quickly and ensure the safety of their loved ones. 
The Netatmo Smart Carbon Monoxide Alarm complies with European regulations. It's CE certified (EN 50291) and NF certified - a label only awarded to products that meet the highest safety standards. 
A 10-year battery  
It's recommended that all carbon monoxide alarms are replaced after 10 years because the detection sensor wears out over time. Many connected carbon monoxide alarms have batteries that last only 1 to 5 years, meaning the user would have to change them regularly. 
Thanks to its long-life battery, the Netatmo Smart Carbon Monoxide Alarm will last for 10 years, without the user having to worry about it. At the end of its lifetime, it sends the user a notification to warn and prompt them to buy a new carbon monoxide alarm for full protection. 
Automatic tests  
The Netatmo Smart Carbon Monoxide Alarm has an Auto-Test feature that monitors the carbon monoxide sensor, battery and Wi-Fi connection. The Alarm will alert you if it detects any problems for full peace of mind. It also has an Alarm Test feature that checks if the 85-decibel alarm is working properly, and it's recommended to be used at least once a year.   
Quick and easy installation  
The Netatmo Smart Carbon Monoxide Alarm works without any electrical connection and can be installed quickly. Simply screw it to the wall, following Netatmo's installation guidelines that are provided in the pack, and download the Netatmo Home + Security app. 
It's recommended to install a carbon monoxide alarm in every room that has a fuel-burning appliance like a boiler, fireplace, gas cooker or stove.   
Price and availability  
The Netatmo Smart Carbon Monoxide Alarm is available for £99.99, with no hidden fees or additional hub required. The product is available on www.netatmo.com, Amazon, Boulanger, Leroy Merlin, Rexel and Sonepar.  
The Netatmo Home + Security app is free and compatible with iPhones and iPads from iOS 14 and Android smartphones and tablets from 5.0.   The Netatmo Webapp is available on Mac and PC.
¹ https://www.hauts-de-france.ars.sante.fr/les-risques-lies-au-monoxyde-de-carbone
² https://www.gouvernement.fr/risques/les-dangers-du-monoxyde-de-carbone
³ https://www.planetoscope.com/Sante-autre/1440-intoxications-au-monoxyde-de-carbone-en-france.html