Break-ins are a lot of home owners' worst nightmare. If you've moved into a new property, you're likely to want to make sure its security systems are going to effectively keep your home, its contents and your family safe. With so many different monitoring devices out there, it can be difficult to know where to start if you're setting up new home security systems.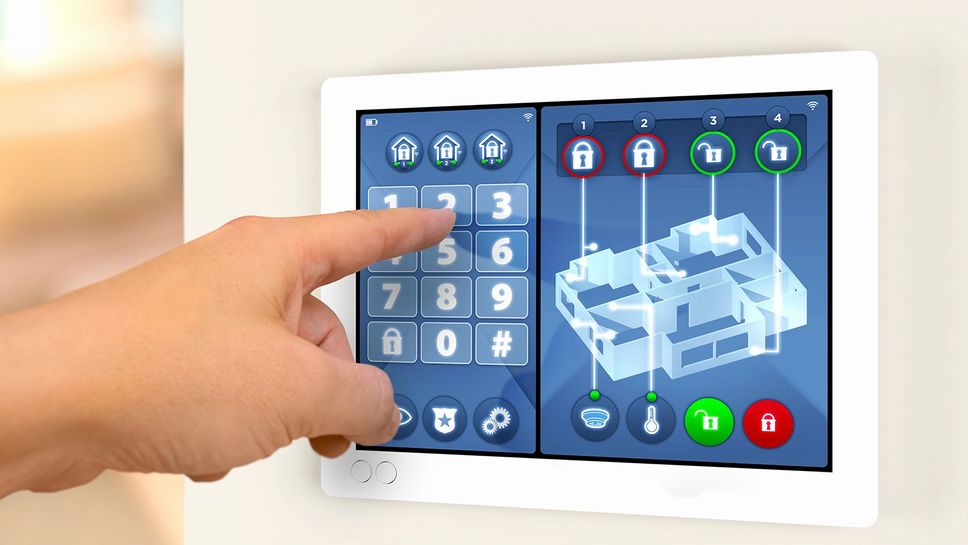 Home security systems: what monitoring devices can you install in your home?
Home security devices are constantly evolving as technology develops. The most basic home security cameras won't cost you too much, whereas fully integrated smart home security systems have a higher price tag attached!
We'll take a closer look at smart home security devices a little later, though. For now, let's take stock of the monitoring devices you might want to consider adding into your home security system:
Security cameras
Security cameras are a highly effective method to keep track of events in and around your home. If you employ staff in your home, remember that you'll need to inform them that your home security cameras will take footage of them as they move around your property.
Security alarms
Global System for Mobile (GSM) and Public Switched Telephone Network (PSTN) home security alarms operate by connecting up to the mobile or landline network in the vicinity of your home. So, if an intruder triggers your home security devices, you'll get an SMS or voice alert that there's been an incident at your home.
Video doorbell
Install a video doorbell as part of your home security system for total peace of mind. With added facial recognition technology, smart video doorbells are an effective way to make sure you and your family don't open up your door to anyone behaving suspiciously. Burglars have been known to pose as door to door salesmen to try to gather more information about your home security systems, just by taking a look inside when your open up your home.
Door and window opening sensors
The latest door and window opening sensors can detect even the slight vibrations that indicate that an intruder is attempting to open a door or window. Include smart sensors as part of your home security and you could receive an alert on your home security app if your sensors do pick up on that kind of activity. Then, you could trigger your home security alarms remotely, to put the intruder off before they've even had the chance to enter your home.
Motion detection sensors
Why not consider installing perimeter or on-site motion sensors as part of your home security system? It's all in the name with home security motion sensors: perimeter motion sensors will monitor the outer edge of your home for suspicious movement, while on-site motion sensors take stock of movement within the perimeter of the home.
Bear in mind that the rules for installing home security systems will change depending on whether your home is a house or an apartment. If you live in a house, as the home owner you'll have the right to install security devices in and around your property.
In the case of security cameras, you'll just need to make sure that they're only recording security footage of your home, rather than of any public spaces.
If your home is an apartment, you'll need to check with your building manager before installing any home security devices. That way, you can make sure your security alarms and other monitoring systems comply with your home's regulations.
If there's a break-in at your home, you're far more likely to receive compensation from your home insurance policy if you have effective home security systems installed around your property. In some cases, your home insurance company may refuse to compensate you unless you can show you had active home security devices in operation at the time of the incident. Plus, installing security cameras or an integrated smart monitoring system in your home could provide vital evidence of a break-in, if the intruder enters the home without forced entry (for example, through a door or window that was left open).
Smart home security devices
If you're installing smart security devices around your home, make sure that your home's WiFi connection is strong enough for your devices to work in all the locations you choose for them.
If you need to, it's advisable to strengthen the WiFi connection at the most vulnerable points around your home (such as windows on lower floors and any doors around the property), so that your devices can work at optimum levels.
Security alarms
Smart security alarms usually work by connecting up to your home's WiFi connection, meaning you can receive home security alerts via an app on your connected smart devices.
**Security cameras
Many smart home security cameras offer secure cloud storage for your home security footage, so you can preserve and access it quickly and easily.
Motion sensors
Smart motion detection sensors can often differentiate between normal movement around your property (your pet moving around outside, for example) and suspicious motion around the home that indicates a potential intruder.
Wired or wireless?
Traditional home security systems are often wired into the walls of the home, for added security for the devices themselves.
If you're looking for more flexibility, you could think about installing wireless home security devices: add more devices to your home security set-up as and when you want, and move the whole wireless system with you as you move from home to home.
Plus, wireless devices will save you money on installation costs, too – why not give some DIY a go and set up your new home security system yourself?