The wireless thermostat is a practical and efficient solution to regulate your heating at home and ensure you reach that perfect temperature in every room, according to the needs and preferences of everyone in your home. Most thermostats you'll come across are, in fact, wireless thermostats - from programmable to non-programmable and manual to smart. There's no complex installation process with a wireless thermostat and it'll adapt to your daily heating needs right away.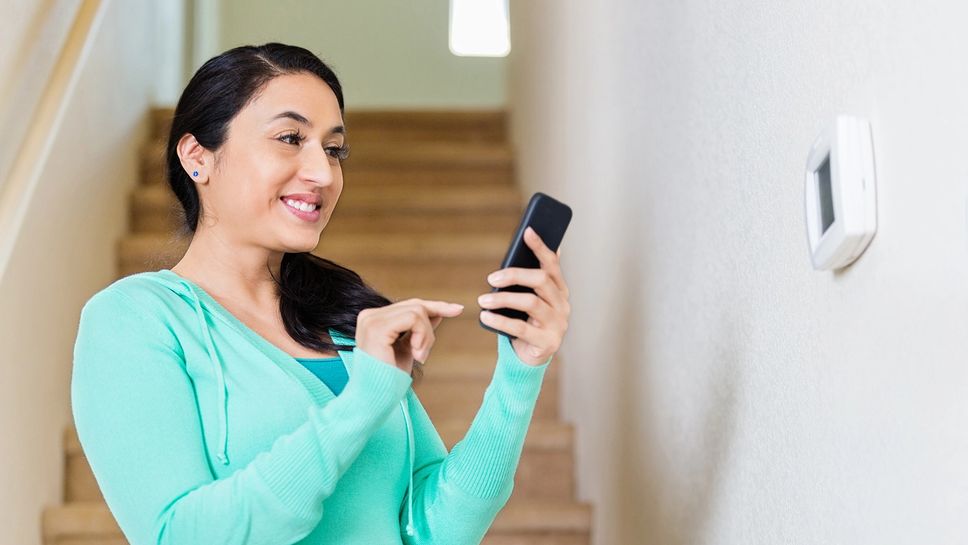 What is a wireless thermostat used for in the home?
A wireless thermostat is - you guessed it - an entirely wireless device that lets you achieve improved, more accurate control over your home heating setup.
A wireless thermostat thus brings you multiple benefits, from optimising the temperature in your home by adjusting your heating from room to room, to positively impacting your home heating consumption, energy efficiency levels and, of course, your home heating bills.
Unlike a wired thermostat (which would need to be installed directly onto the boiler that you use in your home heating system), a wireless thermostat can be installed more flexibly in the home. You just need to ensure it's correctly linked up to its wireless thermostat receiver in order to start controlling your home heating and hit that perfect temperature level.
Investing in a wireless thermostat essentially means investing in precise heating control, with all the plus points that brings for you as an energy conscious home owner. With a wireless thermostat, you're set up to bring down your energy consumption to just the level you need. Achieve perfect home heating and reduce your energy bills in the process!
Control the heating emitted by your home radiators, room by room, and enjoy added controls over your home boiler function with a wireless thermostat

Install your wireless thermostat to work in tandem with your existing home heating setup, including all your home radiators, an individual or collective heating and hot water boiler, or a central heating system that runs on gas, wood, oil, and so on

Control your home heating to the degree or half degree, optimising those temperature levels for improved home comfort and energy efficiency

Bring your heating costs down as you save on your energy usage!
The Netatmo Smart Thermostat is a smart wireless thermostat model for optimum control over your home heating and energy bills. Enjoy an ideal ambient temperature at all times by remotely controlling your home heating via your digital devices!
The differents types of wireless thermostats
There are three main types of wireless thermostats out there for you to choose from to install in your home, depending on your heating needs and the budget you have available to invest in a new wireless thermostat.
The non-programmable wireless thermostat
This type of wireless thermostat is the oldest, the cheapest and - as you might expect - the least advanced and efficient wireless thermostat model that you can install in your home.
As such, the controls you'll gain over your home heating are still there, but they're by no means as precise as they could be.
You won't find a digital screen or programming options with this type of wireless thermostat. Plus, you'll lack truly precise control of your heating from room to room in the home. This type of wireless thermostat only allows you to manually control your home heating via a receiver that communicates with your home boiler.
Yes, the energy savings you can achieve with a non-programmable wireless thermostat are smaller when compared to the likes of a more advanced, smart wireless thermostat. However, basic, non-digital wireless thermostats are still a good option for introducing heating control on a low budget.
The electric programmable wireless thermostat
In comparison to a non-programmable wireless thermostat, an electric programmable wireless thermostat will allow you better control of your home heating. So, you'll soon be saving more on your home heating bills, thanks to improved home temperature controls.
You'll need to program your electric programmable wireless thermostat so that your preferred heating settings are established in advance. That way, your home heating will be under control throughout the day and night, according to when you want to change the temperature. This will ensure optimum thermal comfort in your home.
This type of wireless thermostat provides accurate home temperature information via a digital screen. This makes them an accessible option for specific heating controls and hitting the right temperature from room to room.
Plus, you'll access more advanced controls by switching between thermostat modes, according to your home heating needs. No complex installation, either: wireless models can be moved whenever needed!
The smart wireless thermostat
Most advanced of all are smart wireless thermostats, which can often be connected up to your digital devices for remote control of your home heating, wherever you are.
While more expensive up front, smart wireless thermostats allow the most detailed control over your home temperature settings. As such, you'll benefit from the most significant monitoring and reduction of your home heating bills.
So, a larger investment straight off the bat is often cancelled out via larger savings on your heating bills further down the line. Once you've linked your smart wireless thermostat up to your home boiler and your Internet connection, it will adapt your home heating to your lifestyle and temperature preferences based on a variety of factors. A truly intelligent device!
With the Netatmo Smart Thermostat, you can now benefit from precise controls over how you're heating your home - all from your smartphone! Our smart wireless thermostat lets you optimise your heating from room to room, for maximum and lasting thermal comfort at home.
How much does a wireless thermostat cost?
You'll find a wide range of wireless thermostat models on the market, to suit every home and every budget.
As we've seen, the more basic your wireless thermostat, the less it will cost you up front. But, you'll also have less control over your home heating. By contrast, investing in a smart wireless thermostat will bring greater energy savings overall. Wireless thermostats - a key asset in home heating control!