Whether wired or wireless, a programmable thermostat allows you to have real control over your home heating. With a programmable thermostat, you can program your home boiler or central heating system - as well as the radiators throughout your home - to ensure you're keeping it at the right temperature for you. Wired or wireless programmable thermostats offer you increased heating controls and thermal comfort at home, as well as significant savings on energy consumption and your home heating bills.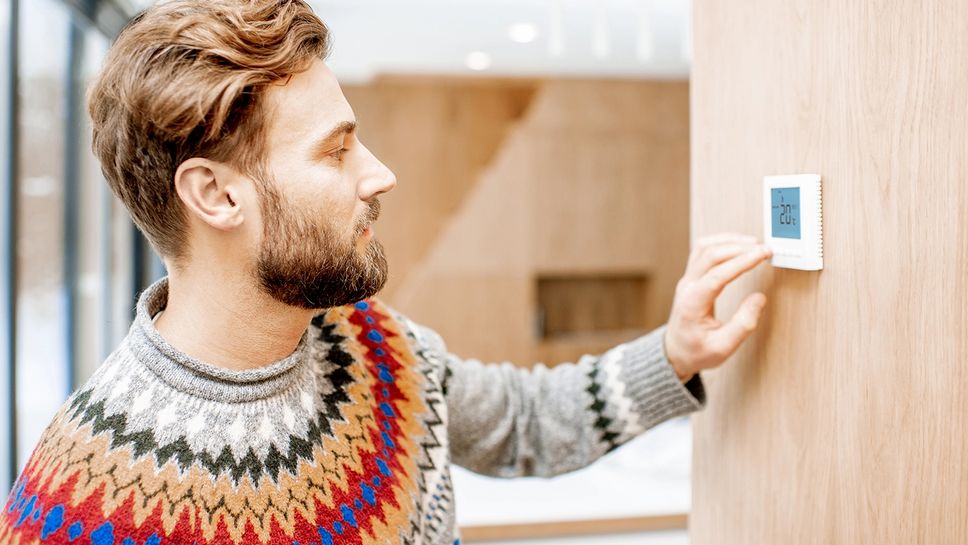 How does a programmable thermostat work?
The programmable thermostat works in essentially the same way that a classic room thermostat would, but - as the name suggests - there's one key difference: programming.
The programmable thermostat, in fact, allows you far greater control of your home heating as you can set specific temperature levels for your programmable thermostat to respond to. So, you can plan in time slots according to the hour of the day or night that you want your home heating to come on, or to adjust the temperature levels to a lower setting when there's no one at home.
Once you've inputted your ideal home temperature settings into your programmable thermostat, a temperature sensor transfers this heating setting to your home boiler or central heating system. Then, it'll kick in as and when planned, optimising your home heating exactly as you need.
With a programmable thermostat, you can say hello to increased control, improved heating comfort, reduced heat loss and optimised heating costs.
The 3 great advantages of the programmable thermostat
Programmable thermostats offer a range of plus points, which we'll look at in more detail here.
Precise temperature control for improved thermal comfort
Your programmable thermostat is connected up to your home boiler or central heating system, no matter its type. That means you can use your programmable thermostat to adjust the temperature throughout your home to the degree or half degree - amazing control!
You can even program your programmable thermostat to adapt its function hour by hour, optimising your home heating throughout the day. Ensuring you're only heating your home when you need to will significantly improve your home energy efficiency, while reducing excess heating costs.
You'll soon get to grips with all the programming settings on your programmable thermostat - it usually only takes a few days to get used to the controls.
Optimised energy consumption
With a programmable thermostat, you can constantly adjust your home heating levels to your specific needs at that moment. Or, as we've seen, you can adjust the programmable thermostat controls to plan your home heating in advance.
That way, you're only heating your home when you really need to, and only to the temperature you really need to. Naturally, this can save you money on your home heating bills. It's also vital for reducing your overall home energy usage, which is key to reducing your home carbon footprint and protecting the environment.
Adaptation to each type of home boiler and central heating system
A programmable thermostat will generally have the option of installation with all types of home boilers and central heating systems.
A programmable thermostat is therefore a great energy saving option, no matter what type of central heating system you have installed in your home. For example, that could be an individual central heating setup or a communal one that provides heating and hot water for your home and others.
By using the added control your programmable thermostat offers in the home, you can regulate your boiler or central heating function to ensure you're only heating as and when you need to. Plus, a programmable thermostat is easy to install - you could even save on the handyman installation costs by going for a DIY approach, especially if you've chosen a wireless programmable thermostat.
The different types of programmable thermostats
Programmable thermostats vary according to the level of programming control that you can set up in each one. Of course, the more advanced the control, the more accurately you can regulate your home heating setup.
Programmable thermostats: different programming levels suited to every home
A programmable thermostat will normally offer various control modes from which you can choose to adjust your home heating according to your preferences.
The more sophisticated your programmable thermostat, the more control options it will offer you to regulate your home heating.
The most efficient type of programmable thermostat is a smart programmable thermostat. As well as being programmable, a smart programmable thermostat analyses its surrounding environment and takes into account various factors to optimise your home heating settings.
Plus, you'll likely be able to control your smart programmable thermostat remotely, from an app on your portable digital devices.
Programmable thermostats: wired or wireless?
Your programmable thermostat can be wired or wireless, depending on your preference for your home heating control. This aspect isn't so important in terms of the operation method and control options that your programmable thermostat will offer, but is a vital consideration for installation.
Wired programmable thermostats need to be linked directly to your home boiler, whereas wireless programmable thermostats can be placed much more freely in home, as long as they're connected up to their receiver.
As such, wireless programmable thermostats are quick and cheap to install yourself. In contrast, it's advisable to get a handyman to install a programmable thermostat directly onto your home boiler to ensure safety and accuracy.
Plus, you can often control wireless programmable thermostats remotely, especially if they're smart models.
Did you know the Netatmo Smart Thermostat is more than just a programmable thermostat? It's a smart thermostat that you can control remotely to optimise your home heating! Introducing improved temperatures at home, significant energy savings and reduced heating bills, all with the Netatmo Smart Thermostat, which is quick and easy to install.
How much does a programmable thermostat cost?
A more basic product will come in at a lower price, with a more advanced, smart product at a higher price.
However, the more advanced your thermostat, the better control you'll have over your home heating, so the more you could save on your home heating bills over time. The costs cancel out!