Smoke detectors are a familiar presence around the house – well, they should be! Smoke detectors are an incredibly important aspect of fire safety in the home: research shows that residents of properties with no functional smoke alarms are four times more likely to die if a fire does start in their home. For landlords in the UK, there are specific legal requirements for installing smoke detectors and carbon monoxide detectors in all properties.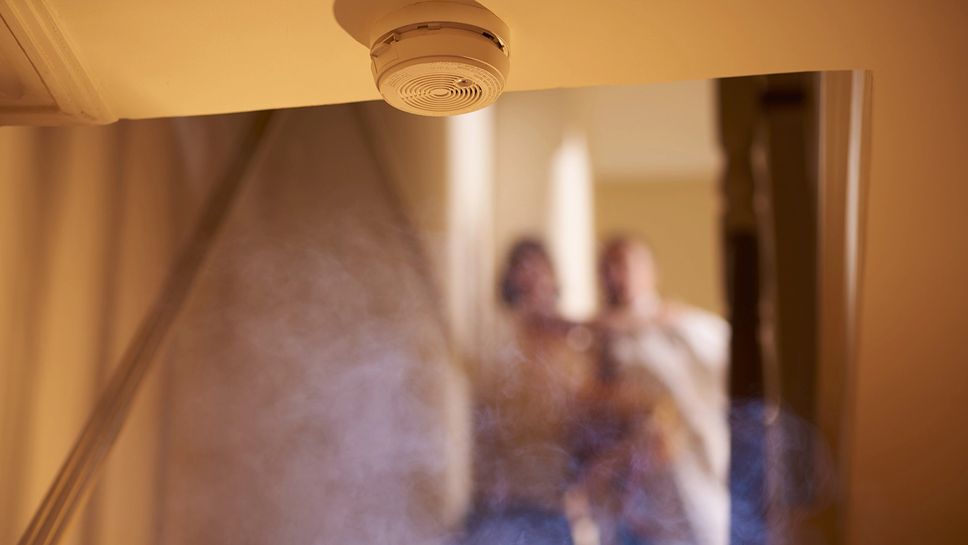 Smoke detectors in the home: what are the legal requirements for ensuring fire safety?
In the United Kingdom, as of the 1st of October 2015, private landlords are required to install smoke detectors on every floor of their properties that is used as living space.
Plus, they're required to install carbon monoxide detectors in all areas where there are devices that burn solid fuel, such as stoves burning coal or wood.
As well as installing smoke and carbon monoxide detectors throughout the home, landlords are required to confirm that all detectors are fully functional at the beginning of each new tenancy agreement.
After that initial test, it's the residents' responsibility to periodically check that their smoke alarms are functioning correctly. UK government guidelines recommend testing your home's smoke alarms on a monthly basis.
If the batteries need replacing, or the smoke alarms themselves aren't working as they should be, the residents should replace the batteries or alarms, or organise this with their landlord.
Smoke detectors are also able to pick up on other toxic fumes that would compromise the safety of those in the home.
For example, detectors placed in or near the home's boiler room would register rising levels of carbon monoxide caused by a boiler malfunction.
Did you know that the maximum lifespan of a smoke detector is 10 years? That's why Netatmo has specially developed its Smart Smoke Detector to have an integrated battery life of 10 years – you won't need to change the batteries at all! The Smart Smoke Detector regularly auto-checks its own function to make sure it's keeping you and your home safe from fire. It'll also send you reminders to check its audible alarm function from time to time. Plus, you can launch and operate Netatmo's Smart Smoke Detector straight from your smart devices. Why not give it a go?
Where's best to install smoke and carbon monoxide alarms in the home?
It's always important to follow any guidelines provided by the manufacturer of your chosen smoke or carbon monoxide detector.
These will provide additional information on how to best install your detector model, ensuring the best possible function to optimise fire safety in the home.
In general, UK guidelines recommend the following:
Smoke alarms
Smoke alarms should be installed on every floor of the property that's used as living space
Smoke alarms should be placed in areas that residents would use when evacuating in the event of a fire, such as hallways and landings
Detectors should be installed on the ceiling (bearing in mind that they should be fairly easily accessible in order to regularly check and replace the batteries)
Remember, the current applicable legislation states that heat detectors cannot be installed as a substitute for smoke detectors in the home.
Carbon monoxide alarms
Carbon monoxide alarms must be installed in any areas of the home containing devices that burn solid fuel
It's wise to position these detectors close to the home's boiler room, to detect carbon monoxide leaks in the event of malfunction
Carbon monoxide detectors should be installed about 1 to 3 metres away from the potential source of carbon monoxide
Home appliances that run on gas can also emit carbon monoxide, so landlords are actively encouraged to install carbon monoxide detectors in areas close to these
Smoke detectors: wired or wireless?
Landlords are free to choose whether they install wired or wireless smoke detectors in the home.
It's up to each individual to select the best option to ensure that there are adequate fire safety systems in place throughout the premises.
If the home is still in the construction phase, it's easier to incorporate wired smoke detectors into its final design.
However, wireless smoke detectors provide much more flexibility. These detectors can be installed wherever they're most needed throughout the home, so landlords can situate them close to areas that pose the greatest risk to residents' safety (where home fires are most likely to start).
Plus, wireless detector models are far easier to install, meaning you could opt for a DIY approach and save money on a – potentially expensive – professional installation process.
Wireless models are likely to run on batteries, so you'll need to ensure that these are replaced regularly.
If you're looking to take your home fire safety systems up a notch, why not go for smart smoke detectors that you'll be able to control remotely from your compatible smart devices?
Smoke detector systems: what's important for ensuring fire safety in the home?
We've covered the basics, so now let's take a look at some further important points.
1. Compatibility with fire safety regulations
Smoke and heat detectors are covered by various regulatory standards. Smoke alarms must comply with BS EN 14604 and heat alarms must comply with BS 5446-2.
2. Fire safety systems in kitchens and bathrooms
Water vapour produced in kitchens and bathrooms could trigger false alarms. Install a heat alarm in the kitchen, rather than a smoke alarm.
3. Smoke detectors and home and fire insurance policies
Make sure you inform your insurance provider of all the fire safety systems in place in the home, including all smoke and carbon monoxide detectors.
Smoke and carbon monoxide detectors are vital components of home fire safety. With a vast range of models available for all budget ranges and installation preferences, it's never been easier to install effective detectors in your property.
As a landlord, it's your legal responsibility to make smart choices that could save lives.