You might not ever have heard of live security cameras – simply put, they're security cameras that allow you to view live video footage of your home, so you can keep up to date on what's going on at any time of day or night. Integrated night vision technology and smart WiFi connections ensure that these security cameras provide a live stream of video footage, helping to keep your home secure.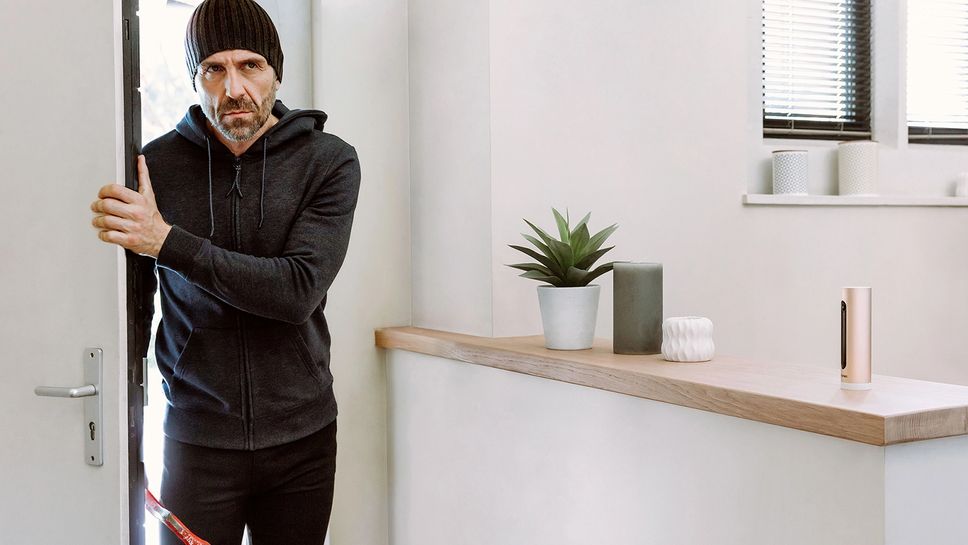 How do live security cameras actually work?
Live security cameras are a very smart home security option – smart in multiple senses of the word!
Your live home security cameras will need an Internet connection in order to correctly function. Link them up to your home Internet via a wired or wireless connection and you'll be able to access live video footage from whichever home security cam you like, from wherever you are.
In some cases, you'll also be able to link your live home security cameras up to connected apps on your selected smart devices. This smart technology is the best way for you to watch live security video footage from your home, even while you're at the office, or away on holiday.
So, live home security cameras – with added smart technology features – can really increase your peace of mind while you're away from home.
The latest generations of live home security cameras feature excellent video quality. Optimal resolution and flexible viewing angles mean you can take the best possible quality security video in and around your home.
Live home security cameras are easy to use – as one of their best features, their integrated smart set-up helps with that. Plus, you can choose to go for wired or wireless installation for your new set of live home security cameras.
If your home is under construction, it might be an idea to wire your live security cameras into the walls. If your home is already up and running, this might not be the best option for you, as installing the live security cameras could incur pretty steep costs.
Instead, why not think about wireless cam installation? Save on the cost of setting up each of your live home security cameras and give yourself the very best options in terms of flexibility at the same time.
With wireless live security cameras, you'll be able to easily alter the way they're positioned around your home to change up the video view. Plus, you'll be able to easily take your wireless home security cameras with you if you move from home to home, whether that's buying or renting.
You'll just need to strategically put up your wireless cams in every new home you move into, optimising your security view of each one. Wireless cameras give you totally free movement!
Live security cameras are incredibly responsive if you effectively connect them up to your home's wireless Internet connection. If your live cameras detect suspicious motion in your home, they'll send an alert to your connected smart devices. You can then view the live security video and choose whether or not to remotely trigger your home's security alarm. Live security cameras are a great addition to an integrated smart home security system, so why not check out other smart home security gadgets too, like Netatmo's Smart Video Doorbell or Smart Door and Window Opening Sensors?
How should you choose the best live security cameras for your home?
Naturally, there are a good few criteria to consider here. Your budget will affect the levels of additional smart technology you can add (such as motion detection and night vision features).
Plus, you'll need to think about which areas of your home you'll need to view, as well as how best to achieve good quality video.
Keep an eye out for these features, as they'll bring out the best in your live home security cameras:
High resolution video for the best possible footage quality
View range of the cameras – how wide an area do they need to cover in your home?
How's best to connect up your home security cameras? A wired or wireless connection?
Optional inclusion of night vision (infrared vision) technology, to keep your home safe day and night
Options of remotely altering the view angle and the level of zoom
Optional inclusion of smart motion detection functions, to alert you to suspicious movements around your home
Video recording and storage function, to keep your security footage safe
The design of the cam itself: how subtle or obvious do you want your home security cameras to be? Should they go unnoticed, or act as a more obvious deterrent?
Will your new live home security cameras be compatible with your existing smart home security set-up?
Will your WiFi connection still be strong enough to support the best function of all your smart home security devices?
Will your live home security cameras be durable enough to be used outdoors, even in bad weather?
When you're browsing home security cameras, make sure you're aware of any additional costs that might crop up. Think about installation prices (remember, the decision between installing wired and wireless live home security cameras could make all the difference there).
You might also want to look into the price of the video storage options that live security cameras offer. Will it come free with the cameras themselves, or will you need to pay a subscription? Smart storage via the Cloud offers a secure, flexible option that could be best for you.
While we're on the subject, it's worth mentioning that – in order for your live home security cameras to keep your home safe day and night – you'll need to make sure your WiFi connection is always paid for and functional.
Where's best to use live security cameras?
While we usually focus on home security here at Netatmo, that's not to say that these security products are exclusively useful in and around the home.
If you…
Are a business owner who wants to increase security on your premises during the night
Operate a warehouse or storage facility that you'd like to monitor remotely
Have a garage that's separate from your home
…then live security cameras could be the best option for increasing their round-the-clock security.
Suspicious motion detection, night vision features, top quality live security video and smart, remote connections via WiFi are real assets in terms of allowing you to keep areas such as these secure.