Nowadays, underfloor heating is a highly popular option for keeping your home warm in the colder months. Heated floors are one of the most effective home heating systems, efficiently distributing warmth throughout your property. Underfloor heating is a widely used option in new-build homes and old-build renovations alike, especially as heated floor systems that use water can be an economical option. As always, it's best to look into all the advantages and disadvantages of a home heating system before installing it, so we'll take a closer look at underfloor heating here.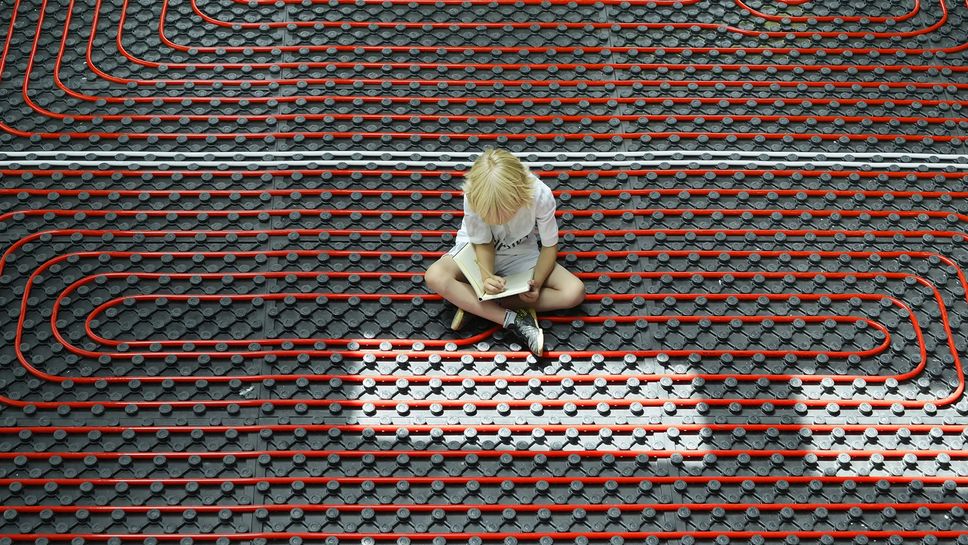 How do underfloor heating systems work?
Unlike radiators, heated floor systems distribute heat across all the rooms in your home. Underfloor heating has actually been around since the 1960s, but it's become a lot more energy efficient since then! Heated floors are a practical and exceptionally comfortable way to effectively heat your home, making every room a real treat to enter during those colder months.
Heated floor systems operate using water or electricity; both options work in a similar way to heat your home. You can choose to have your heated floors distribute warmth evenly across all the rooms in your home, or according to specifically programmed settings that you configure yourself to suit your household's needs.
Water-based underfloor heating systems install various pipes under the flooring in your home. Water heated to around 40°C runs through these pipes, heating up a concrete layer above them. The concrete layer retains this heat and distributes it evenly across your flooring.
Electric underfloor heating systems operate using heating cables. These diffuse heat via radiation, effectively and thoroughly heating your home's floors.
Underfloor heating systems are designed to keep your home's flooring at a pleasantly warm level, perfect for walking over in bare feet. To achieve that level of warmth and comfort, the ground should never be over a temperature of around 28°C.
With a Netatmo Smart Thermostat, you can adjust the underfloor heating system in your home remotely - from your smartphone, tablet or laptop! It's never been easier to keep your floors at the perfect temperature, for ultimate at-home comfort.
Electric underfloor heating: high energy consumption, but easy to install
There are two types of electric underfloor heating, classic and mixed floor. Below, we'll take a closer look at both.
Classic electric underfloor heating
Classic electric underfloor heating uses a single heating cable to evenly heat the floors in your home. Running throughout your home, it's connected up to the electricity mains for power. With an electric underfloor heating system, the heating cable will transmit even, pleasant warmth across all the floors in your home via a process of radiation.
In fact, electric underfloor heating doesn't just increase the warmth of the floors in your home. It actually warms up its walls and ceilings, too, as well as objects within your home's rooms.
Electric underfloor heating systems are relatively quick and simple to install, making them a popular option for home renovations. Overall, electric underfloor heating systems are less expensive to install than water underfloor heating systems.
Electric underfloor heating with storage or mixed capacity
This type of electric underfloor heating differs slightly from classic electric underfloor heating, in that it accumulates heat emitted when it's not in active use, to restore this when it's later switched on again.
These electric underfloor heating systems need to be linked up to radiators in your home - or other types of home heat emitters - to ensure a constant heating supply for your home.
Hot water underfloor heating: the most economical and reliable option for your home
Underfloor heating systems that operate using hot water are typically low temperature home heating systems.
They work via a network of water pipes installed under all the heated floors in your home, which transfer heat from the hot water that runs through them to a concrete layer above. The concrete effectively retains this heat and transfers it to the floor surfaces throughout your home.
These underfloor hot water pipes work like a conventional central heating system, similar to more traditional radiator systems. The heat produced can be used to heat hot water for your home taps, showers, and so on, as well as directly heating up your floors.
Water underfloor heating systems are suitable for use under floor surfaces such as tiling, parquet, stone, marble and some types of carpet. You'll need to check the specifications of your flooring material to make sure it's compatible with an underfloor heating system - safety first!
A little-known fact is that water underfloor heating systems can actually be used to keep your home cool in the hotter months of the year, too. In hot weather, you can use the same system to lower the ambient temperature in the rooms of your house by around 5°C!
While water underfloor heating systems are more expensive to purchase and install than electric underfloor heating systems, they are ultimately more economical than their electric equivalents.
Underfloor heating: key pluses and minuses
Here, we outline the major advantages and disadvantages of both electric and water underfloor heating systems.
Advantages
Improved well-being and at-home comfort with perfectly-heated rooms throughout your home
Practical, invisible and quiet heating system that's completely enclosed in your home flooring
Limited maintenance with low annual spend
Underfloor heating systems can be connected up to all types of home central heating systems (solar, electric, geothermal, wood, gas, etc.)
Potential savings on heating costs compared to traditional home heating systems
Disadvantages
Not suitable for certain floor coverings (always check the specifications)
Significant initial investment in the heating system (purchase and installation costs are higher for water underfloor heating systems)
Install a Netatmo Smart Thermostat to optimise your home underfloor heating system, whether it's electric or water-based!
How much does underfloor heating cost?
To calculate how much the installation will cost you, focus on three key factors:
The surface area of the floors you want to heat in your home
The design configuration of your home 
Which underfloor heating system you choose (electric floor heating systems are cheaper to purchase, but more expensive to use; the opposite is true for water floor heating systems)