When the temperature drops and you want to keep your home warm, you might think it's time to turn the heating on or up. Yes, but... with the rising price of energy, heating accounts for 66% of energy expenses in French households*. So the cost of running our boilers, for heating as well as hot water, weighs heavily on our household budgets! Now, with a range of smart thermostat systems, you can buy a kit to control your heating remotely at any time. Installing this type of product is one of the best ways to save energy.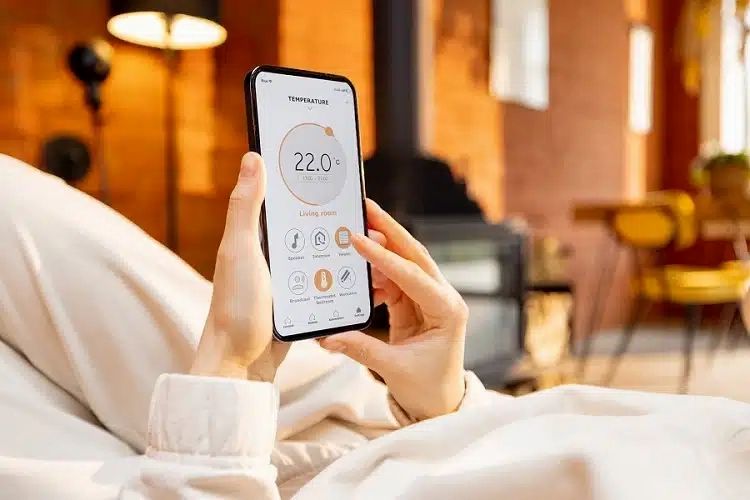 How can you control your heating remotely by smartphone?
What could be better than being able to control the temperature of your lounge, bedroom or bathroom, anywhere, at any time? Now you can, with the range of smart thermostats available today! These wireless products work with modern combi boilers and are a key part of managing the heating in your home, which is more important than ever when it comes to saving energy.
Successful installation of a smart thermostat
To set up a smart thermostat so it controls your heating correctly, you need to take 2 factors into account during the installation process: the product's connection to the internet and to your home's central heating system.
For the Netatmo Smart Thermostat to work, you need:
A Wi-Fi connection
An individual boiler
One of the following energy types: oil, wood or gas
Controlling your heating remotely: what are the advantages?
A remote-controlled heating system with a smart thermostat has many advantages and a wireless kit like this can be the best solution for many homes looking to lower the price of running their boilers.
Saving energy: in fact, controlling your heating remotely is a considerable advantage given that lowering the temperature by just one degree can already reduce your consumption. What's more, with the rising price of gas and electricity, it's important to be able to limit the use of our heating systems. The Netatmo Smart Thermostat allows you to set a custom heating schedule that suits your lifestyle and enables you to heat your home and hot water only when necessary and to the right temperature. This allows you to reduce your heating costs and avoid heating your home unnecessarily when you're away.
Precise control of your heating at all times. Whether you're in the office, on business, on holiday or even at home, you can control the temperature of your home to the nearest degree and choose the preferred heating mode for your combi boiler. To control your heating remotely with the Netatmo Smart Thermostat, just install the Energy app or the Home + Control app on your smartphone. You will then be able to access your heating schedule directly on your smartphone, as well as monitoring your energy consumption so you can heat your home as efficiently as possible. Even in a second home, a smart thermostat can be a very useful piece of kit: turn the heating and hot water on ahead of your arrival and enjoy peace of mind when you leave, because with a smart thermostat you can turn the boiler off even after you've gone.
An investment that soon pays off: according to ADEME, prices for programmable and/or smart thermostats range between 60 and 250 euros and buying one can save you up to 15% in energy costs**. To give you a practical example, the saving works out at about €210 per year off a €1,400 bill for running a gas boiler. Another reason to say yes to a smart thermostat!
Optimal thermal comfort thanks to the features offered by the Netatmo Smart Thermostat, such as Auto-Adapt, which works out when to turn on your heating by taking account of your home's insulation as well as the outside temperature.
The Netatmo Smart Radiator Valves for remote heating management, room by room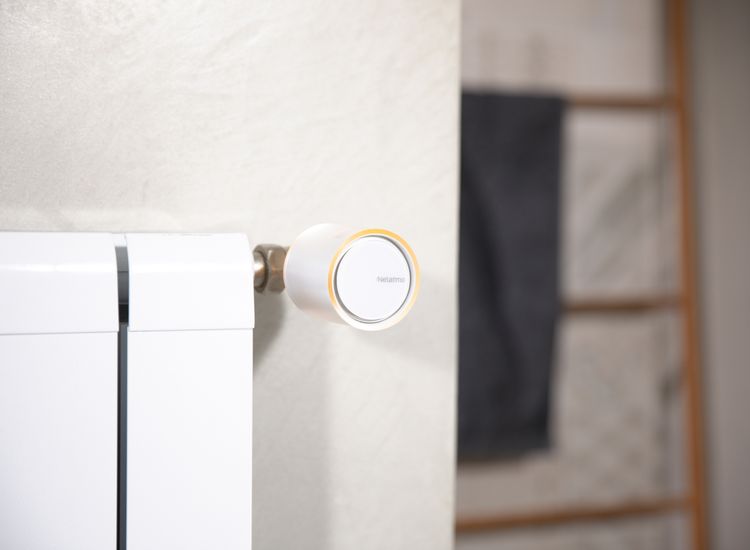 If you want to use wireless technology to regulate the temperature in your home even more precisely, in order to heat every room to a pleasant temperature, you can opt for Netatmo Smart Radiator Valves.
A radiator valve is actually a part of something called a thermostatically controlled valve. It's a product that lets you control the heat of each radiator precisely.
Netatmo Smart Radiator Valves can also be controlled remotely. After installation, you can look on your smartphone to monitor the heating temperature in each of your rooms. They include an open window detection feature and continuously analyse the room's environment in order to adjust the heating according to the detected level of sunlight.
How do smart radiators work in a remote-controlled heating system?
Remotely controlling your heating system can also be done directly through your radiators. Today, some radiators have embedded wireless technology so you can manage your heating even when you're away from home.
Just like smart thermostats, some smart radiators can be used for monitoring your heating or detecting open doors and windows.
 Intuis Connect with Netatmo is a smart module for managing electric heating, created in partnership between Muller and Netatmo. It can synchronise several electric radiators in one room in order to harmonise the temperature and therefore the thermal comfort you feel.
Installation is as easy as can be! Simply place the wireless connection module in your electric radiator and download the Intuis Connect app.
Does remote-controlled heating work with voice assistants?
Need to turn up the heat in your dining room without getting up off the sofa? The voice assistants Alexa (Amazon), Siri (Apple) and Google Home are compatible with some smart thermostats on the market including the Netatmo Smart Thermostat.
No need to lift a finger! If you have an Amazon speaker for example, just say: "Alexa, put the lounge in OFF mode" to set your combi boiler to frost mode if you're going away for a few days, or "Alexa, heat the living room to 19 degrees" to regulate the temperature.
More than ever before, with rising gas and electricity prices, being able to manage your heating remotely can help you avoid high energy bills. Beyond the financial aspect, there's also an ecological aspect, because a house that's not overheated is a house that emits less CO2!
*Source: Un hiver tout confort, ADEME
**Source: Passer au thermostat programmable, ADEME