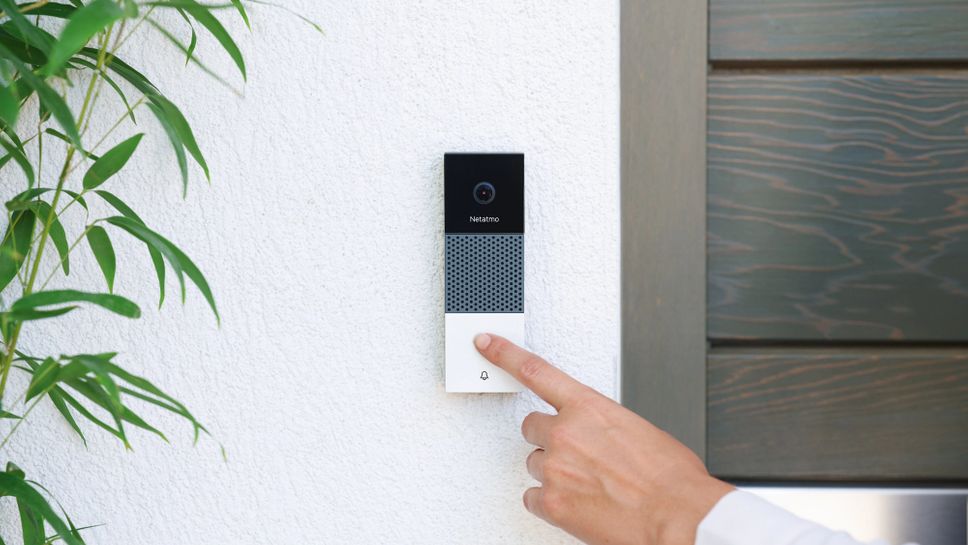 Eagerly awaited since it was first revealed, we are pleased to announce that the Smart Video Doorbell is now available! Placed next to the front door, the Smart Video Doorbell keeps an eye on everything that happens outside your home, at any time of the day or night. No matter where you are, it alerts you in real time on your smartphone when someone comes to your house, whether they ring the doorbell or not.
The Smart Video Doorbell will always be useful, wherever you are
See and talk to your visitors live
Have you ever missed a delivery because you were not at home? Or left a guest waiting because you did not hear the doorbell from your garden? Whether you are at home or on the other side of the world, the Smart Video Doorbell alerts you in real time on your smartphone when somebody rings it. You will then receive a video call, allowing you to see and interact with your visitors live. No more wasting time chasing after your packages; simply give the delivery person instructions, even remotely, to leave your package in a safe place until you get home. You will also be able to relax and serve an aperitif on the patio while waiting for your final guests to arrive! Plus, if you simply do not feel like answering, no one will find out – we promise!
Keep an eye on your home and scare off intruders
More than just a doorbell, the Smart Video Doorbell also alerts you when someone is lurking near your front door. In fact, it can distinguish between a person and a harmless movement, only alerting you when it is necessary. This is a huge benefit as many connected video doorbells send you unwanted alerts when a simple movement is detected. With the Smart Video Doorbell, you will not be disturbed if your dog is playing on the grass or if it is just the leaves falling off the trees. However, if it is an intruder, you will be able to scare them off in a flash by using the built-in loudspeaker.
Custom notifications
All the Smart Video Doorbell's alerts can be customised. For example, as well as being alerted when someone rings the doorbell, you can activate smart person alerts to be notified when someone is lurking around your door. At the same time, you can also choose which events you would like the Smart Video Doorbell to record. Finally, with the Alert-Zones feature, you can set up to 4 specific surveillance areas, which is useful if you want to exclude certain areas such as the street or your neighbour's garden.
Benefits that make all the difference
A premium product at no extra cost
Like all Netatmo products, the Smart Video Doorbell is also subscription-free.
All the features, video storage, and updates of the Netatmo Doorbell are accessible free of charge. This is a huge plus given that most other doorbells on the market require a subscription for full use of the product, which ends up being quite expensive in the long run.
Easy DIY wired installation
The Smart Video Doorbell simply replaces a wired doorbell and works with your existing wired chime. We have developed it so that it is widely compatible with 8-24 V & 230 V electrical installations.
100% secured data
As with the entire Netatmo Security range, the Smart Video Doorbell's data are always protected: locally on an included microSD card with high-security encryption.
A doorbell that is always there for you
Incredible image quality, both day and night
Infrared night vision allows the Smart Video Doorbell to keep an eye on what is happening outside your door 24 hours a day. The Smart Video Doorbell is equipped with a Full HD 1080p camera so you can enjoy exceptional image quality. In addition, thanks to the HDR feature, sudden changes in lighting are mitigated. You can, therefore, clearly see what is happening outside the house in any kind of lighting, and your visitors' faces will be sharp even in backlighting.
A weatherproof doorbell
Rain, snow, humidity, dust, and dirt: it can withstand anything! Thanks to HZO technology, its innovative thin-film coating guarantees the integrity and functioning of the Doorbell in all weather conditions. It is also IP44 rated.
Compatible with Apple HomeKit and the Siri voice assistant
The Smart Video Doorbell is one of the few doorbells that is compatible with Apple HomeKit. You can use Siri voice commands and create smart scenarios with other products compatible with Apple HomeKit. For example, to simulate a presence in your home, automatically trigger the smart outdoor lights when someone is detected outside your door.
Availability and compatibility
The product works through the Netatmo Security app. This is available for free on the App Store and Google Play Store.