Putting in insulation in the loft or attic of your home is vital to increasing your energy efficiency. This attic insulation will be placed in the floor of your loft, so just above the ceiling of the top floor of your home. Studies have shown that putting in effective insulation in your loft can reduce your home heat bills by up to 30%. So, what are the best materials for insulating your loft? Should you be insulating that floor and ceiling area with glass wool, foam or another material that traps a lot of insulating air? How much will putting in roof insulation at home cost you? We'll share all our top tips on attic insulation here!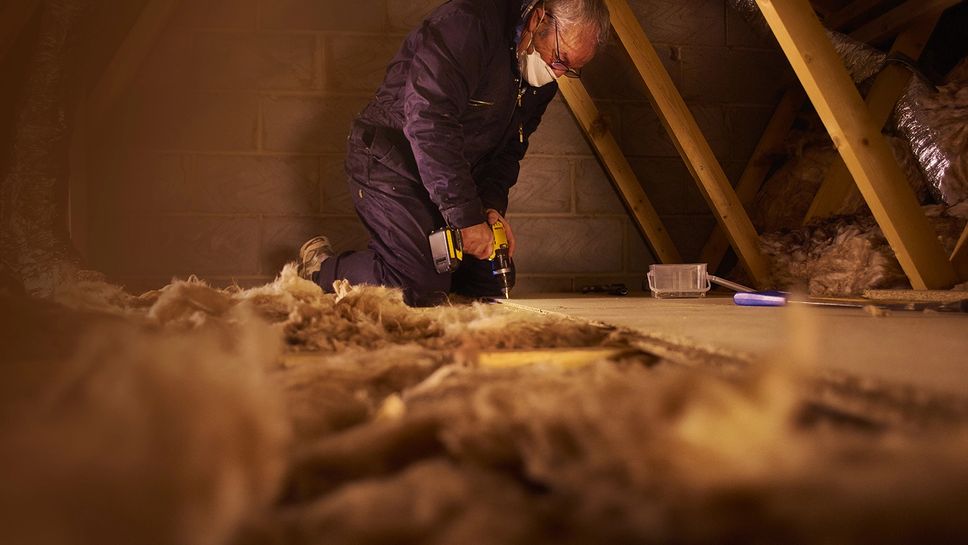 Why is it so important to insulate your attic at home?
The benefits of insulating your roof at home are multiple: loft insulation has thermal advantages, cost advantages and environmental advantages.
First up, your roof insulation will help your home heat installation to better heat your home. Say goodbye to chilly rooms and hello to better heat quality in your home, all thanks to roof insulation!
Second, good quality loft insulation can help to reduce your home heat bills by up to 30% - that's a significant saving on heat costs.
Third, installing roof insulation helps your home to be more energy efficient. This is better for you and better for the environment, reducing your home use of energy for heat and, as such, shrinking the carbon footprint of your home.
Due to all these factors, effective loft insulation should be first on your list when renovating your home energy setup.
Attic insulation: the starting point for home energy renovation
You might invest in a high performance heat setup for your home that includes a programmable thermostat to regulate and adjust your home heat consumption. That can save you energy and money, but it's pretty senseless if that regulated heat just leaks out through the loft and roof of your home!
Heat lost through the roof of the home makes up about 30% of heat that escapes from the home. Due to that fact, insulating your loft should be a priority for increasing your energy efficiency at home.
If your home is in an area with warm weather, you might be thinking that roof insulation isn't for you. However, your home still needs insulating! Loft insulation can also work to exclude heat from the home, keeping it cool when needed as well as increasing heat levels when needed.
Once you've installed effective attic insulation in your home, any other renovations to increase your home energy efficiency will be much more effective.
How can I insulate a converted attic or furnished attic?
Insulation techniques are the same whether your attic or loft is furnished, converted or a storage space for the home, rather than a living space. Mostly, your attic insulation process will be carried out from the inside of the home.
For a converted attic, we usually use insulation that comes in a sheet-like shape and is clipped directly onto the inside of the roof
For attic spaces that aren't living spaces, the best option is installing attic insulation in the floor
Once you've insulated your loft, it's time to take your home energy efficiency up a notch. Reduce your energy bill further by installing a Netatmo Smart Thermostat on your home heat setup. You can use it to program and adjust your home heat devices remotely from your smartphone or tablet to optimise your home energy efficiency.
Which type of insulation should you choose for your loft?
There are a huge range of options for loft insulation out there - a quick Internet search will show you how many varieties of attic insulation there are! The key thing is to choose your loft and roof insulation based on the specific requirements of your attic space and your home more generally.
One of the most popular options for attic insulation is glass wool, with foam insulation as another widely-used insulation material.
Other options for attic insulation include:
Mineral wool: this insulating material offers complete insulation (covering thermal, acoustic, water and fire insulation)
Cotton, hemp or sheep wool (these are often 100% natural insulation)
Expanded cork (this insulating material is another natural option for insulation)
Cellulose wadding (a widely-used attic insulation option, but not the most efficient insulating material)
Installing attic insulation is a relatively simple process, especially if you opt for installing the insulating material directly onto the roof of the attic. The best insulation option for you will depend on the size, shape and type of your loft and roof.
Often, the loft insulation will be installed in the space between the boards or joists that make up the floor of the loft (these sit just above the ceiling of the uppermost floor in your home). The aim of all insulating materials is to trap in air. This helps to keep heat in the home, rather than letting it escape.
How much does loft insulation cost?
Loft insulation is key for bringing down your home heat costs by increasing your home energy efficiency. So, loft insulation is an investment well worth making!
The cost of insulating materials and installing insulation
The cost of insulating your attic and roof will depend on the design, size and current status of your attic space. It will also depend on the insulating material that you choose to use.
In general, you'll want to balance the increase in your home energy efficiency that the insulation will allow you to achieve versus the cost of installing the insulation. You're likely to cover the cost of the attic insulation within a couple of years by saving on your home heat costs.
If you want to make your home more energy efficient, then attic insulation is the best place to start! Save on your home heat costs, shrink your home energy usage for heat and reduce the impact of your home on the environment.