Sure, you know that installing a security alarm would be a great way to keep your home secure. But with so many home security systems out there, how do you make the right choice for you? Let's take a closer look at the different home security options on offer.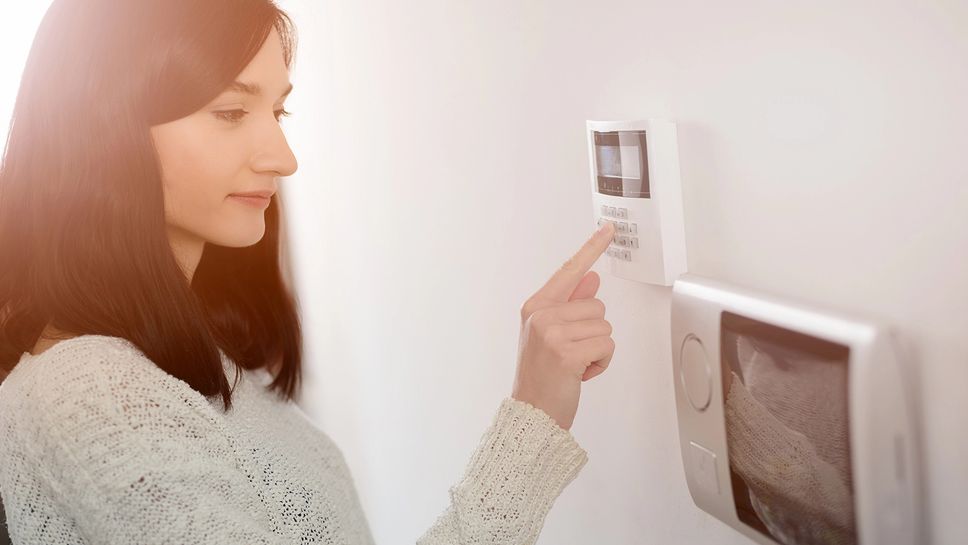 Which security systems would be best for your type of home?
Choosing the best home security system for you – whether that's a security alarm, smart motion detection sensors, window and door opening sensors, security cameras or other smart security devices – the first questions are nice and basic. Is your home a house or an apartment? Is it a wired or a wireless home security system you're looking for?
So, is your home a house or an apartment?
All home owners have the right to install a security system in and around their home. For a comprehensive home security system that will bring you total peace of mind, why not install home security devices inside and outside your home?
Smart security cameras can monitor the boundaries of your property, as well as the home's various entry points and inside the home itself.
Make sure your security cameras only record footage of your private property. If their range goes beyond your home, you'll need to comply with data protection laws to protect members of the public who may be recorded. The same goes for employees within your home - you'll need to inform them that you've got home security cameras in place.

Door and window opening sensors monitor suspicious activity around these vulnerable points on your home.
These smart sensors might be especially useful is you have large ground floor windows, garden doors or skylights that could act as entry points.

A smart video doorbell gives you more control over access to your home.
See who's there using the smart video function and talk to whoever's on the doorstep before you let them in. Cutting-edge facial recognition technology makes these a really great home security option!
If you live in an apartment, you're likely to face much more restriction in terms of installing a home security system. Before setting up any home security devices, you'll need to check them with your landlord and neighbours.
If it's a security alarm you're thinking of, you might need to think again: home security alarms with loud sirens are usually prohibited in shared apartment buildings. If you're really concerned about home security where you're living, it's best to talk to the building management team about installing additional security devices throughout the property.
Are you looking to install a wired security alarm system or a wireless security system?
Most of the latest security alarm systems are totally wireless. Wireless home security products give you total flexibility in terms of where in your home you want to install your security system, as well as how many devices you add into your integrated security system.
Plus, if you move from home to home fairly often – whether you're a buyer or a renter – you can move your entire wireless system with you into a new property.
But, if your home is actually under construction, you might want to consider installing a wired security system into the building itself.
What level of home security are you looking for? Will you want to be able to control your home security devices remotely?
Basic home security alarms
A basic home security alarm will go off if, for example, a burglar entering your home triggers the alarm system's motion sensors. Your security alarm will emit a piercing noise, letting anyone in the area know that there's been an incident in the home, as well as ideally putting the burglar off before they can actually steal anything.
Basic home security alarms won't offer you any kind of remote control (for example, no smart apps you can link up to your portable devices). Plus, a basic home security alarm won't communicate the alert to the outside – that means that your home security company won't be informed if there is a burglar in your home.
If you're looking to install a higher-level home security system, take a look at the following security alarm options:
A wireless Global System for Mobile (GSM) security alarm works by connecting to the mobile network
A wireless Public Switched Telephone Network (PSTN) security alarm works via your landline connection
A smart security alarm will use your home WiFi connection to link up to your other security devices, creating an integrated system
These smart systems will send you an SMS or voice message alert (if you've got a GSM or PSTN home security alarm) or a notification to your connected smart devices (if you've got a smart wireless home security alarm).
That way, you can stay on top of what's happening in and around your home, even while you're away. At the same time, your GSM, PSTN or smart wireless security alarm will also emit a loud siren sound, just like an alarm would in a more basic home security set-up.
What's more, smart security alarm systems will allow you to trigger and shut off your home security from wherever you are, at any time.
Have you thought about a smart, integrated home security system? What about the benefits of modular home security devices?
We've already seen some of the benefits of installing a smart home security system – now let's talk about modular home security devices.
If you start building your home security system based around your home's wireless Internet network, you'll have total flexibility to add devices to your home security set-up as and when you want to.
So, you could start with a smart security alarm, then add smart motion detectors, smart security cameras or smart door and window opening sensors, whenever you like. Providing you choose compatible devices and install them correctly, you'll be able to create an interconnected, totally smart security system for your home.
Home security devices range from basic to very high-tech. The level of home security you're looking for is entirely up to you – and might be limited by your budget! Remember, even the most basic home security devices can do a great job of keeping your home secure.
Protect your home and prevent break-ins with a complete security solution. Burglary need no longer be a worry! The Netatmo Smart Alarm System with Camera has everything covered. It offers full protection for your home and provides you with real peace of mind.