In recent years, there have been big changes in the way we use and control our homes. First, we used physical objects such as buttons, switches or remote controls to operate features such as lights, heating and security systems. Then smartphones became remote controls, with apps allowing us to operate our devices using wireless technology, whether or not we were at home. Now we can even use our voices to control and secure our smart homes. At the same time, the range of solutions has expanded, from lights to heating through security, door and window management and access control. What's more, there are many more ecosystems available now, offering consumers a wide range of devices for controlling their home.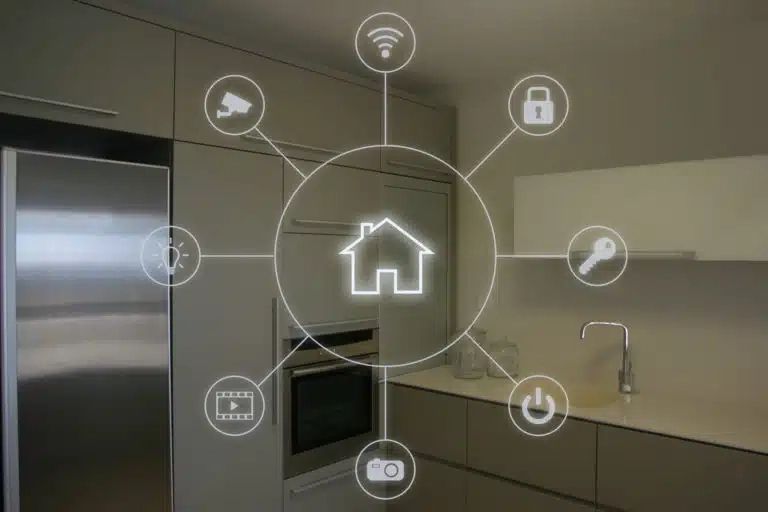 Today, we are entering a new era in smart home technology and moving towards a more autonomous home. Indeed, thanks to various interoperable devices and advanced automation systems, next-gen smart homes can now automatically trigger interactions to make life easier for their occupants.
Yet one problem remains: the wide variety of smart solutions, gadgets and software on the market can be confusing. The increasing number of new products, hubs and platforms on offer is making things more complicated. Currently, some products are incompatible with each other, interactions are sometimes limited to a particular ecosystem (such as Apple HomeKit, Samsung SmartThings or Amazon Alexa) and you often have to install and update several apps to achieve the best set-up for your home.
As part of the Legrand group, Netatmo has collaborated with more than 200 companies belonging to the Connectivity Standard Alliance (CSA), to solve this problem by developing a standard for communication between connected objects: Matter. Matter promises to unify and simplify the various ecosystems within the smart home. Read on to find out what it all means for you.
What's the Connectivity Standard Alliance?
To understand Matter and its relevance in the smart home world, we first need to understand what the CSA is.
This group of companies was initially called the Zigbee Alliance, but is now known as the Connectivity Standard Alliance. Major international players on the smart home market, like Apple, Google, Amazon, Samsung or Legrand, are collaborating within this group. All this is quite new, however. For example, it was only in 2021 that Google announced that Android would work with Matter. Not to be outdone, Apple revealed in the same year that IOS 15 would also support Matter.
The formation of this group, aimed at simplifying interoperability between different brands of connected objects, led to the creation of Matter. Indeed, today there are cases in which it's impossible for a user to make products of a given brand work together with certain voice assistants. Matter promises to solve this problem. As long as the device you buy carries the Matter logo, you'll be able to connect it to any Matter-compatible platform, app or assistant. In the field of hubs, for instance, you could set up a Google Nest Hub to control an Eve smartplug. Many Amazon Echo devices now support Matter, too.
With this new smart home concept, the CSA allows consumers to choose the environment they feel most comfortable in, or the voice assistant they are most accustomed to, while still being able to use connected objects made by competing manufacturers, such as Eve, Apple, Google or Amazon. Moreover, from an economic perspective, the group says that making connected objects compatible with each other also lowers the barriers to entry into the IoT market.
It's worth noting that apart from Matter, the CSA is working on several other IoT solutions, like Zigbee, Dotdot, Greenpower and Jupitermesh.
Matter: the standard for interoperability between connected objects?
 At CES 2020, the CSA announced its plans for a universal protocol for interoperability within the smart home. At the time, the project was called CHIP (Connected Home Over IP) and it wasn't until CES 2022 that Matter really stepped into the spotlight.
Matter is therefore a universal home automation protocol, a "language" that will allow multiple smart home devices to communicate with each other. Until now, you had to buy a home hub or home automation box to allow objects using different protocols to interact. These devices "translate" the protocols, which allows products from different brands to communicate with each other so the user can create scenarios.
With Matter, there's no need to go through this process to harmonise your smart home as Matter will be enough on its own. So the Connectivity Standard Alliance wants to develop the IoT further and usher in a new era of smart homes that are easier to operate and customise. Matter is multi-platform and will make it possible to mix different ecosystems, such as Google, Amazon or Apple, which are currently very compartmentalised.
The CSA's intentions regarding the Matter project seem very clear, yet protocols like Zigbee or Z-wave already exist and can be used to connect multiple devices with each other. What makes Matter so different from the other protocols? In reality, while Zigbbe or Z-Wave are powerful protocols and are compatible with many smart home objects, they suffer from an obvious problem: they require a home automation box in order to function. However, the CSA has not yet announced any plans to withdraw Zigbee, nor to replace it by Matter.
Practically speaking, Matter will work using Thread and Wi-Fi. These are complementary wireless networks that will help to optimise the smart home. Simply put, Thread and Wi-Fi are the networks on which smart home devices operate, while Matter is the protocol or "language" these devices use to interact with each other.
How Matter and Thread work
Thread, a revolutionary home automation protocol
Thread was launched by the ThreadGroup and uses a mesh network. To give you a brief explanation: Thread uses "border routers" that allow it to communicate with external networks, such as Wi-Fi. This means that devices that support Thread can easily connect to devices that only function with Wi-Fi, allowing as many connected devices as possible to interact. This also means that any device can act as a router and thus extend the network and its reach throughout the house. So, each new product you add to the network improves its efficiency and reliability.
Thread has another major advantage: it allows the mesh network to repair itself automatically. Let's say your smart TV goes down. Thread detects the anomaly directly and therefore excludes your TV from the rest of the network so the other smart home devices continue to work with each other. In other words, the network readjusts itself if a device on it malfunctions.
Finally, Thread is a low-power protocol and therefore meets a significant challenge facing the home automation and IoT market.
Conclusion on Matter
In conclusion, by creating a new common language, Matter simplifies interactions between the various connected objects in your home, regardless of their brand or communication protocol. This is a breakthrough in home automation, because Matter should address several issues in a single protocol (home automation box, products not being compatible because they work with different networks...).
This is a huge step towards a revolution in your home and in the smart home world. Also, to make the most of this new version of your home, you'll need to detect the right information at the right time. Sensors will therefore play a key role in this home transformation process.
That's why the first Netatmo product to support Matter will be the Smart Security Sensor. It will be able to interact easily with an extensive ecosystem. Featuring dual contact detection technology that monitors door and window opening, and infrared motion detection that can scan a defined area, it will help every user achieve the best automation solution for their home.