Solar energy is a key source of renewable energy that is becoming increasingly popular for use in the home. Installing solar panels in our home is a straightforward way to shift our energy use towards renewable power sources. It's particularly useful for bringing power to our home heating systems. Aside from the environmental impact benefits of this renewable energy source, solar power has multiple additional advantages. While solar panels do require a significant upfront investment to install in the home, you'll be set up to power your home with free, renewable solar energy for life!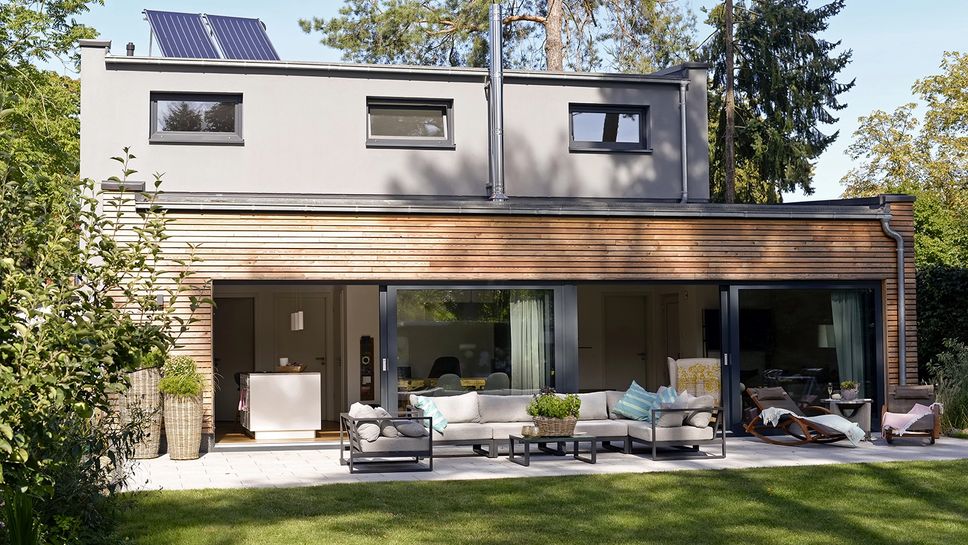 What is solar energy?
Solar panels, photovoltaic cells, sunlight power systems… you're likely to have come across this renewable energy source under many names. But what exactly is solar power?
Solar energy: 100% clean, green and renewable power
As we can tell from its name, solar energy comes directly from the power of the sun's rays. To convert this power into energy we can use in our home, we have to install photovoltaic cells - also known as solar panels - on areas of our home that frequently catch the sun, such as the roof.
On a large scale, solar power plants install vast areas of these photovoltaic cells to convert the sun's power into energy used in multiple homes. Some types of solar panels convert the sun's power into electricity, while others convert its power into energy for heating domestic hot water. Other types of photovoltaic cells are set up to produce both solar power electricity and hot water.
Key advantages of renewable solar power
It's clean, green, renewable and free of charge once you've installed your solar panels. It's clear that solar energy has many advantages, so we'll take a closer look at them below.
Solar power is 100% clean energy
No greenhouse gases are emitted in the production of solar energy
The sun, the source of solar power, is available worldwide and free of charge to access
However, the process of using solar power is not entirely free of greenhouse gas emissions or negative impact on the climate. The production of photovoltaic cells (also known as solar panels) does involve the use of scarce raw materials and the emission of polluting greenhouse gases. But these emissions cease as soon as the solar panels are produced, allowing us to access renewable energy from that point on.
Did you know that solar energy is also the driving force behind other sources of renewable power? The sun's energy moves water masses to create water power; the sun's energy also generates the wind currents that power wind energy. Plus, the sun's power has a central role in the process of photosynthesis integral to the production of renewable biomass.
How can you produce and consume your own solar energy?
If you're looking to produce solar energy to use in your own home, you'll need to install photovoltaic cells in areas that receive a lot of sunlight. That could be the roof of your home or garage, or an area in your garden. Your solar panels will need to be angled so that they receive as much sunlight - and, therefore, solar energy - as possible.
Your solar panels will be connected up to a device called an inverter. This converts the direct electrical current produced by the solar panels into an alternating electric current. This alternating current is just like the current produced by conventional electrical power networks, so can be easily used to power your home.
If you have a smart energy meter installed in your home, this will likely allow you to measure both your production and consumption of solar energy, so you can easily monitor your power use.
Go one step further in reducing your energy use with a Netatmo Smart Thermostat! Easy to install, you can reduce your power use by remotely regulating your home heating, so you're only using your heating systems when you really need them.
Can you get government aid for installing solar panels in your home?
The UK government has been promoting the use of renewable energy for several years, but grant funding has actually been cut for solar panels. However, this funding cut was accompanied by a decrease in the price of solar panels, so that still helps home owners looking to use renewable solar energy.
SEG and RHI schemes
While there are no outright grants for buying and installing solar panels in a UK home, there are still opportunities for aid to fund solar panels in the UK. The Smart Export Guarantee (SEG) scheme is still open for new applications, and if you're looking to use solar power for your home hot water heating, you could apply to the Renewable Heat Incentive (RHI).
The UK government recently announced the Green Homes Grant, providing home owners and landlords with £5,000 to £10,000 in vouchers to make energy saving changes in the home. These vouchers do not cover solar photovoltaic panels but they do cover solar thermal panels for domestic hot water heating.
The SEG scheme
The SEG came in on the 1st of January 2020 and is currently the only funding available for solar panels in the UK. The SEG enables small-scale, low carbon emissions power producers to earn payments based on the surplus energy they export back to the power grid.
The RHI scheme
If you want to power your home heating using solar thermal panels, you could benefit from the RHI scheme. However, the RHI is scheduled to end in March 2021. The aim of the RHI is to encourage home owners and landlords in the UK to switch from traditional, high emissions energy sources to renewable energy sources to power their heating.
These renewable energy sources for heating include solar power, so if you've installed solar thermal panels in your home you're likely eligible for quarterly cash payments to support your use of your solar power heating system.
The payments depend on the type of renewable system you have installed in your home, as well as the current energy tariff rates, and apply over a period of seven years. It's important to note that the RHI only applies to renewable power for home heating, so is only relevant to thermal solar panels, not solar photovoltaic panels.
Switch to solar energy for a clean, green, renewable option!