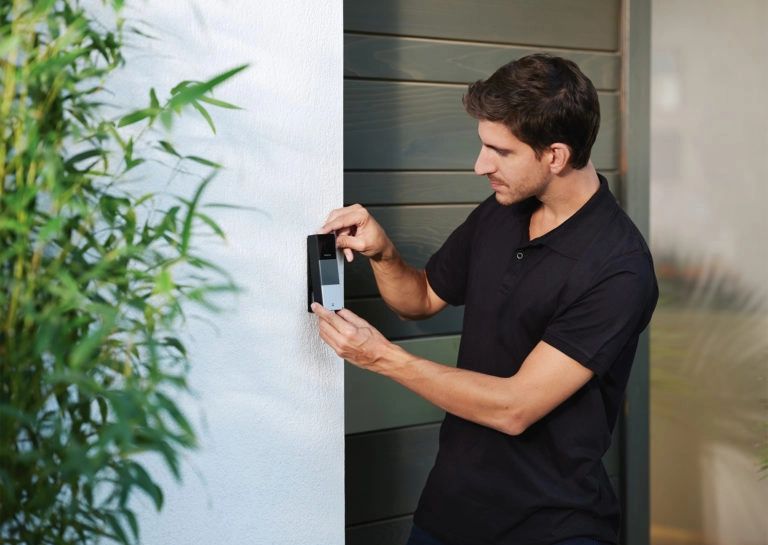 The Netatmo Smart Video Doorbell has been available on the market since September 2020. Until now, it could be easily installed as a replacement for an existing doorbell and chime kit. Today, the Intelligent Video Doorbell is compatible with a wide variety of installations, even without an electrical connection, thanks to two adapters specially designed by Netatmo.
What are the two new adapters and which one should be chosen?
The Power Adapter
You don't have to be a handyman or even call an electrician for this option. The Power Adapter can be plugged into a standard indoor socket. All you have to do is drill a hole in the wall to allow the designated cable to pass through.
The Built-in Adapter
The second is a Flush Mount Adapter, which is a more discreet installation as the doorbell is connected to the existing electrical wires, hidden in the wall. Nevertheless, for this installation, you will need to be confident about doing it yourself or bring in a professional. Both types of adapters are now available, either on their own or as a package with the doorbell on The Netatmo Shop.
A solution for every situation
If you already have a wired doorbell with a chime: nothing could be easier! You can replace your existing doorbell with the Netatmo Smart Video Doorbell while using your existing chime. It is suitable for most electrical installations (8-24 V & 230 V). In this case, you do not need to use our two new adapters.
To check the compatibility of your wired doorbell, go to https://check.netatmo.com/security
If you have a doorbell but no chime / or the chime is incompatible: the two adapters allow the Intelligent Video Doorbell to be installed without chime.
If you do not have a doorbell or have a wireless doorbell: you can choose the most suitable adapter to easily install the video doorbell. The chime is no longer needed in this configuration! When a visitor rings, you will be alerted on your home phone or remotely. If you want to hear the bell ringing in your home, you can use your connected speaker: the Smart Video Doorbell is compatible with Amazon's Alexa, Apple's Siri Assistant and Google Assistant.
Thanks to these adapters, Netatmo allows more users to enjoy a main powered Smart Video Doorbell: once installed, the users don't have to charge any batteries.
The Netatmo Smart Video Doorbell allows you to see who's at your door and respond from wherever you are. When someone rings at the door, you can be alerted on your smartphone and can chat with your visitors. The Doorbell is also used to secure the entrance to your home. It alerts you in real-time if it detects someone loitering in front of the entrance. There are no subscription fees and data is stored locally on the doorbell's microSD card for added security. To sum up, Homekit compatibility allows you to configure scenarios with other smart objects in the home.
The Netatmo Smart Video Doorbell adapters are available on the Netatmo eshop and will soon be available in other stores.