Travelling by motor home, caravan or van has become very popular in recent years! Synonymous with freedom and independence, these mobile homes allow you to leave at a moment's notice and modify your holiday itinerary as you go along.  However, living in the open air does not mean you can neglect important safety rules. The risk of being exposed to carbon monoxide is very much real in both homes and motor homes alike. The Netatmo Smart Carbon Monoxide Detector is now certified for installation in "converted vehicles" such as vans, caravans and motor homes. We explain how to effectively detect carbon monoxide in your motor home in order to ensure the safety of you and your family.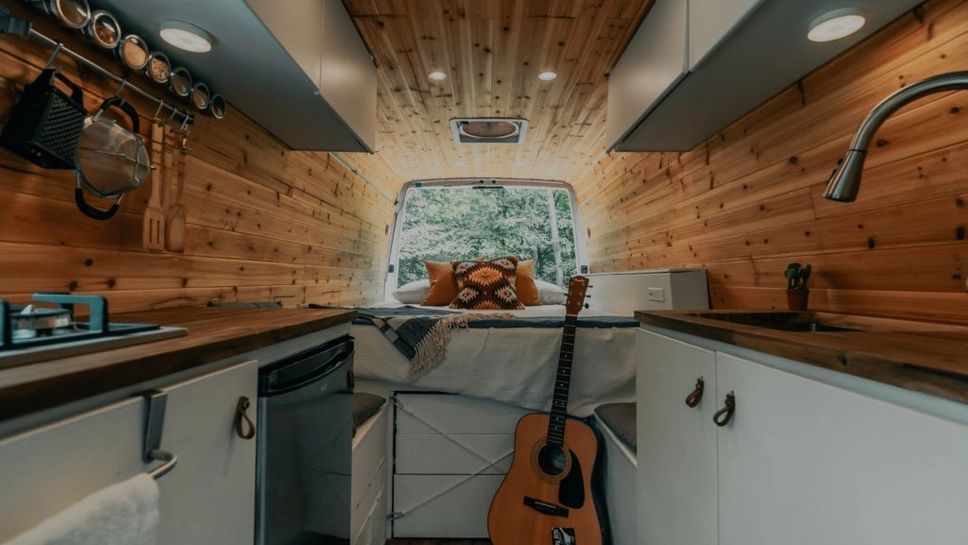 Why should motor homes be fitted with a carbon monoxide detector?  
Staying in a motor home, van or caravan, whether permanent or temporary, does not rule out the need for safety accessories. Although decorations or furnishings are a nice way to fit out the interior of a motor home, priority must first be given to safety accessories. Domestic hazards (fire, gas leakage, etc.) are just as much possible in a motor home as in a flat.  Carbon monoxide is an odourless, colourless, and non-irritating gas, making it difficult to detect. This gas poses a serious health hazard as its inhalation can cause intoxication or even asphyxiation.
Carbon monoxide is produced as the result of the incomplete burning of wood or gases such as butane or propane. A carbon monoxide leak can also be linked to the use of a faulty gas heater or oven. Indoors, a leak most often comes from appliances that are damaged or have not been serviced for a long time. In motor homes it can come from a stove or a cooker.  
To protect you and your family, it is important to instal a carbon monoxide detector in your motor home (also applicable to a converted van or caravan). There are also good habits that you can adopt, such as properly airing your motor home or not using unsuitable appliances for heating.  
How does a carbon monoxide detector work?   
A carbon monoxide detector ensures your safety by detecting abnormal levels of carbon monoxide in the air. If abnormal levels of this dangerous gas are detected, it directly warns the occupants of the motor home. Carbon monoxide detectors must have an alarm loud enough to wake up the occupants of the motor home. The Netatmo Intelligent Carbon Monoxide Detector has an audible alarm of 85 dB which can alert residents even while they are sleeping.   
Be careful when buying carbon monoxide detectors as they look very similar to smoke detectors. Although they both serve to protect and secure the home, they do not have the same functions. Smoke detectors warn the inhabitants upon detection of smoke in case of a fire.   
How do you properly install a carbon monoxide detector in a motor home?   
In a house or a flat there are specific rooms in which it is recommended to place your carbon monoxide detector: rooms containing a combustion appliance, such as the kitchen, the garage or the cellar. With regards to motor homes, carbon monoxide detectors are best placed on an indoor wall, preferably not too far from the kitchen. However, certain distances must still be observed. For example, the detector must be placed at least 2 metres away from combustion appliances and no more than 1.5 metres off the ground.   
The Netatmo Smart Carbon Monoxide Detector protects you against poisoning   
The Netatmo Smart Carbon Monoxide Detector measures the carbon monoxide levels in a room or a recreational vehicle in real time.  If carbon monoxide is detected, it alerts users with an 85 dB audible alarm, prompting them to leave the premises immediately and to call for help.   
If the user is not at home, the Netatmo Smart Carbon Monoxide Detector also sends a notification to their smartphone, enabling them to act and ensure the safety of their loved ones. In a house, this is made possible via a Wi-Fi connection but if installed in a van or motor home a 4G relay will be required to remotely inform users of danger. This warning can be especially valuable if a leak occurs while you are away from your vehicle as you will know not to go back inside. The Netatmo Carbon Monoxide Detector complies with European regulations. It is CE certified (EN 50291) and NF certified for products offering the highest safety standards. It is now also certified to EN50291-2:2019 for use in a van or motor home.  
Quick and easy installation   
The Netatmo Smart Carbon Monoxide Detector works without electrical connections and is quick to install. Simply attach it to the wall, whether that be in a fixed or mobile home, and download the Home + Security application. Thanks to its simple and elegant design, it will easily disappear into the background of even the smallest spaces. 
A carbon monoxide detector with a 10-year battery life   
Given that the detection sensors wear out over time, it is recommended that all carbon monoxide detectors be replaced after 10 years. Certain carbon monoxide detectors work with batteries that need to be changed more often but this is not the case with the Netatmo Smart Detector.  Thanks to its long-lasting battery (sealed batteries), the Netatmo Smart Carbon Monoxide Detector is completely autonomous for 10 years, without the user having to carry out any maintenance. When it reaches the end of its life, it sends a notification to the user to warn and remind them to buy a new carbon monoxide detector to protect themselves. To further maximise its effectiveness, the Detector also has a self-test function to ensure that each of its key elements are working perfectly.  
Prices and availability of the Netatmo Smart Carbon Monoxide Detector  
The Netatmo Smart Carbon Monoxide Detector is priced at €99.99, with no hidden costs or home automation boxes to add on. It is available for purchase at www.netatmo.com, Amazon, Boulanger, Leroy Merlin, Rexel and Sonepar. The Home + Security app is completely free and compatible with iPhones and iPads from iOS 14 and Android smartphones and tablets from 5.0.   
*The Netatmo Carbon Monoxide Detector has received EN50291-2:2019 certification for converted vehicles.