A siren alarm is one of the most basic home security products out there, providing effective protection for your home at a reasonable price. Siren alarm systems work by generating a loud, piercing siren sound when they're triggered by intruders in and around your home. When they're set off, some siren alarms also emit flashing lights to attract even more attention to your property.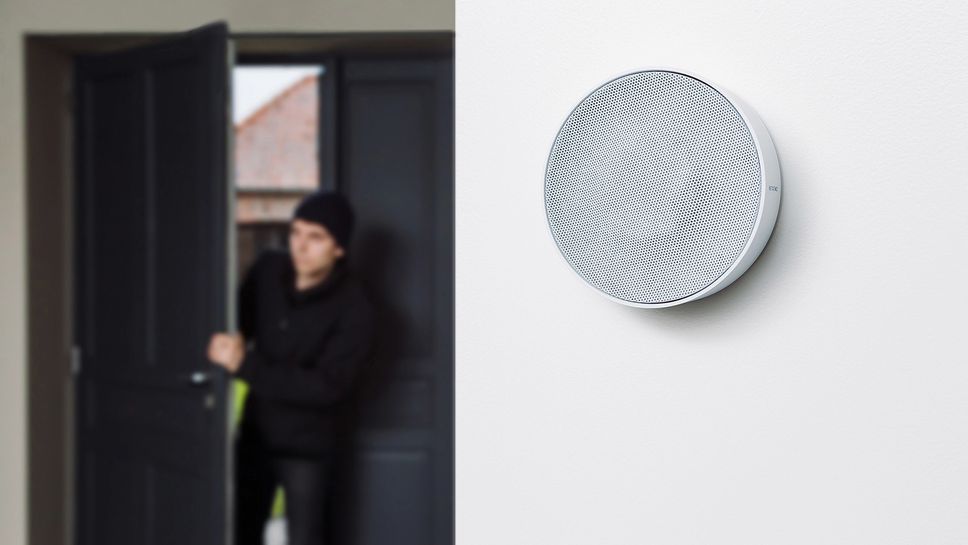 Siren alarms: key products in your home security system
An alarm system is a great way to increase your home security. When your alarm is triggered, the loud siren sound will mean you, your neighbours, passers-by and potentially the police are aware of a problem in the home.
Before installing a siren alarm system in your home, there a few points to bear in mind. Which regulations must your home security system comply with? How's best to install your siren alarms? Are siren alarm systems effective on their own, or will your home need further security products?
Netatmo has the answers here!
In the UK, there are a number of regulations with which your home alarm system has to comply.
All home owners have the right to install a security system, but you'll need to make sure your siren alarms don't become a public nuisance.
If your local authorities feel your home alarm system is causing too much disturbance in your neighbourhood, they're within their right to request that you disable your home security products. What's more, you may need to cover the price of disconnecting your home security system.
To avoid that, make sure your siren alarms and other home security products are correctly installed and set at the right level of sensitivity. That way, your siren alarms will only be triggered by intruders in your home, rather than everyday events.
Plus, you might want the police to automatically be called out to your home if and when your siren alarms – or wider home security system – are triggered.
For that to happen, your home security system will need to match up to the National Police Chiefs' Council Guidelines on Police Requirements & Response to Security Systems.
In order to qualify, your home alarm system will need a Unique Reference Number, or URN. To be eligible for a police URN, your security alarms will need to have been installed by an expert accredited by the National Security Inspectorate, or NSI, or by the Security Systems & Alarms Inspection Board, or SSAIB.
These guidelines aim to reduce the number of police call-outs to false alarm situations, where home security systems have been triggered for no real reason.
Ensure your compliance with local and national regulations in order to effectively use your home security system. To get the system installation just right, you might want to contract a home security expert to fit your home's siren alarms and other security products. If you're more interested in a DIY approach, check out Netatmo's advice pages on how to install your own home security system. Leave your home with peace of mind thanks to Netatmo Smart Cameras and Security Systems. Easy to install and without extra fees.
Are siren alarms an effective home security product?
Siren alarms are an effective deterrent for intruders in your home. Should someone try to break in, your alarm system might force them to leave the property before they can steal any items from within the home.
Stand-alone siren alarms:
You might want to install a siren alarm system as your first – or only – home security product. While siren alarms can act as a highly effective deterrent, it is advisable to integrate your home's alarms into a wider home security system (see below).
But, if you do start out with a siren alarm system for your home, make sure you effectively advertise the fact that it's powered up and running on your property.
Outdoor security stickers are a great way to do this, as they'll warn potential intruders that your home has an alarm system. The last thing an intruder would want to do would be to trigger a loud, obvious siren alarm.
Siren alarms integrated into home security systems:
Alarms will work most effectively in your home if you add them into a comprehensive home security system. This might include security cameras, window and door opening sensors, motion detectors or a smart video doorbell.
Traditional home security systems used to be wired into the walls of your home. Now, wireless home security products are now becoming increasingly popular.
Wireless products are far easier to install in your home - for a fraction of the installation price as you can often take care of the job yourself!
A smart, wireless home security system would use motion detection technology to trigger your home's siren alarm, when needed. Your interconnected system of security cameras, sensors and detectors would seamlessly share information, helping to increase security levels in and around your home.
Plus, installing smart home security products will mean you can control your home's system remotely. For example, you would be able to trigger your alarm system from a connected smart device (like a phone or tablet) to deter intruders in your home.
Plus, if your alarm system were to go off needlessly while you're out of the house, you could stop the siren sound remotely.
Have you considered installing a smart home security system? Smart, wireless home security products provide cutting-edge technology to protect your home. With precise motion detection and facial recognition features, your home security system will make sure your alarm only sounds when there's a problem, not when it's just your family moving around the home.
Siren alarms: affordable, effective home security products
If you're looking to install a siren alarm security system in your home, there's a huge range of choice in terms of alarms to suit every price range.
Siren alarms are worth investing in to protect your home: you may have heard about the trick of using false look-alike alarm systems to deter intruders, but these are no substitute for a properly installed, active home security system.