In 2019, no less than 237,400 burglaries were recorded in France*. What's more, most burglaries take place in the resident's main home. So living in a block of flats won't necessarily put burglars off from trying to break in. But what's the most effective way to ensure the security of your flat with an alarm system? Should you use the same type of alarm system for an apartment as you would install in a house?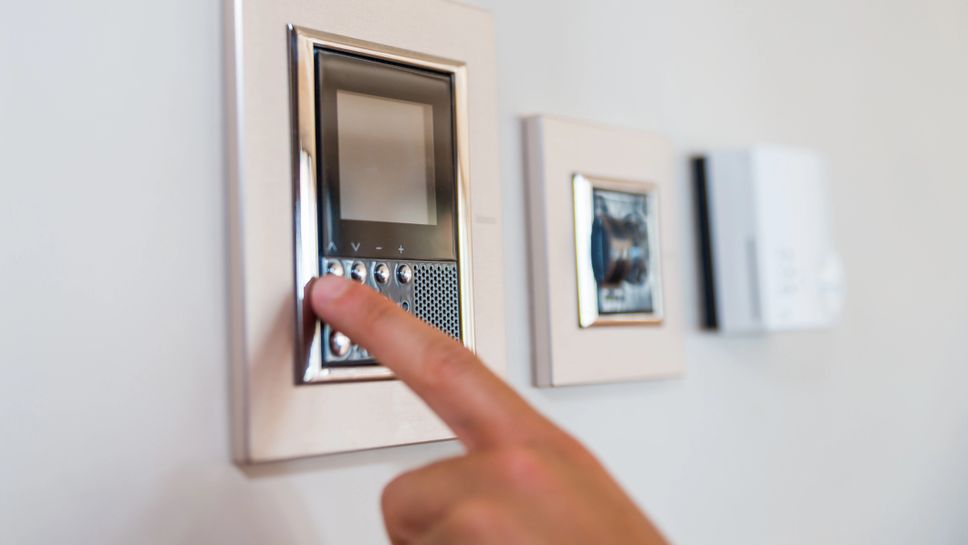 How does a security alarm work in a flat? 
An alarm system is a piece of equipment that ensures the security of your house or apartment by alerting you if a burglar intrudes into your home. It can deter burglars from breaking into the property or remaining there, and it can help residents and neighbours to act promptly by calling law enforcement. 
An effective security alarm system is usually sold as a kit or pack, containing a central unit which controls the whole system, and accessories such as motion sensors, video cameras for monitoring, and sirens that ring out in the event of a break-in. So to guarantee the security of your property, you need to buy not only an alarm but several pieces of equipment that will work together to protect your abode. Some systems are best fitted by a professional, while others are suitable for DIY installation. Some security systems even feature smart technology that allows you to view your property remotely using an app on your phone. 
What security equipment does an alarm kit contain?  
The main items in an alarm kit are:  
A central alarm unit that connects, coordinates and controls the various accessories in the system. The central alarm unit operates either with a keypad or a remote control.
An alarm siren is a piece of security equipment that emits a powerful sound, ringing out in the event of an attempted burglary or intrusion into your house or apartment. It's the alarm siren that will scare off or deter any burglars because the shrill sound can alert residents, neighbours, passersby, etc. With its 110 dB alarm, the Netatmo Smart Indoor Siren  is a product that works in combination with the Netatmo Smart Cameras: it will ring out instantly when an unknown face is detected in your abode. 
An opening detector is a small wireless device that attaches to doors or windows in your home. For security reasons, during the installation of this equipment, it's important to place the device on the inside of the door or window so that burglars can't deactivate or tamper with it. By using sensors to detect vibrations, Netatmo Smart Door and Window Sensors alert you instantly via an app your smartphone if a burglar breaks in through your door or window. 
A wireless motion detector that can detect the presence of intruders in your home. Its sensors pick up on the motions of anyone who has broken in. The best motion detector is one with a wide enough detection angle and a long enough range to scan as large an area as possible. 
A surveillance camera, wired or wireless, outdoors and/or indoors, so you can view video footage of what's happening in your lounge, in your garden or on your terrace at any time. The Netatmo Smart Outdoor Camera has facial recognition so it won't send you unwanted alerts and only alerts you if a burglar attempts to intrude into your abode. The same is true for the Netatmo Smart Indoor Camera, which is the best buy for an apartment. Wherever you are, this smart video camera lets you view your home from a distance. It provides you with live monitoring 24 hours a day, even at night, thanks to its infrared vision feature.  
What are the different types of alarm system for securing a flat?  
Wired alarm 
The wired alarm is the most classic option of all security alarm systems. This type of alarm can be the best choice if you have a large flat or house and struggle to get a good Wi-Fi signal in the area where you want to install your alarm. An added advantage is that this type of alarm will not be sensitive to electromagnetic interference, which can help avoid malfunctions during use. 
However, bear in mind that wired alarms are not easy to set up and this type of product is time-consuming to install, so these systems are best fitted with the help of a professional or DIY enthusiast. The price of this equipment is also relatively high. 
Wireless alarm 
A more recent technology than the wired alarm, wireless alarm systems are in use in many households and fit easily into the dynamics of the smart home. Wireless alarms are battery operated. This type of security product can send alerts remotely to the user through their wireless internet connection. So you need to have Wi-Fi access to use and control these alarm systems. 
 There are some advantages to buying a wireless alarm. Firstly, installation of the equipment is very quick and easy, ensuring a hassle-free experience even for those who aren't into DIY. This can free up a lot of time if you want to move your alarm to another room, if you're moving house or even if you want to move the alarm while carrying out home improvements. Secondly, wireless alarm systems will send an alert to an app on your smartphone in the event of a burglary, intrusion etc.  
Netatmo offers a complete wireless alarm pack for optimal security so you can stay in control wherever you are (alerts available in real time via the Netatmo Security app).  
GSM alarm 
GSM is short for Global System for Mobile, meaning that a GSM alarm works through the mobile network, which makes it a wireless alarm.  
So, if a burglar intrudes into your abode, the security alarm alerts you directly on your mobile phone by SMS or voice mail. This is an advantage because even from a distance you will be warned if any intruders have entered your abode, or are trying to do so. However, bear in mind that if you're somewhere with no network access, you won't get the notification about the break-in... 
Fire alarm: protect your flat against hazards in the home  
When we talk about home security alarms, we often tend to focus on the risk of burglaries and intrusions. Yet hazards in the home such as fires or carbon monoxide leaks can also be a danger to you and your loved ones. In France, according to Law n°2010-238 of 9 March 2010 (effective since 2015), it is compulsory to have at least one autonomous smoke alarm in every home. Using an integrated alarm siren, smoke alarms immediately alert residents and neighbours if it seems like there might be a fire in your home. 
The Netatmo Smart Smoke Alarm has a powerful 85 dB alarm siren to warn you in the event of a fire, so you'll hear it ring out even in your sleep.  
What's the price of an alarm kit for a flat or a house?  
The price of an alarm kit can vary according to different criteria: the technology used, the products included in the kit etc. You can buy the simplest kits for a little less than a hundred euros while the most comprehensive smart systems with the latest equipment can add up to €500. 
In short, to protect your apartment, you need a complete alarm kit (central alarm unit, detectors, cameras etc.) but you also need to choose the alarm system that best suits the layout of your home and meets your needs. Whatever alarm system you decide to buy, this product will help deter burglars from entering your home, and make it easy for you to act quickly if they do get in.  
*Source: Sécurité et Société, 2021 Edition, INSEE