Indoor pollution, or rather indoor air pollution in your home, is an important issue. As you probably know, indoor air can be up to 10 times more polluted than outdoor air! And your cleaning products are often the cause. This is not so surprising considering some of the labels… so what are the observations and, above all, what are the solutions?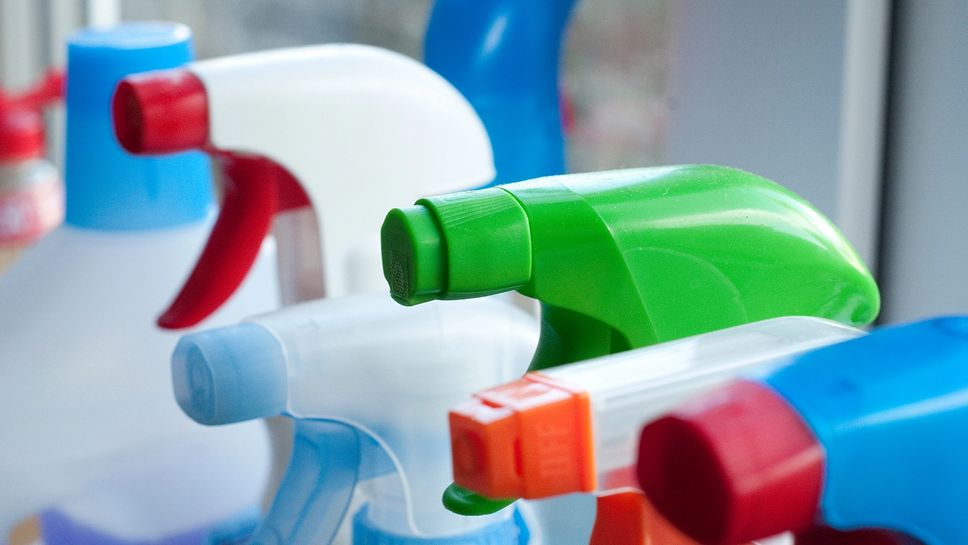 Cleaning products, so widely used yet so toxic
We all use household products cleaning products: dishwashing liquid, cleaning products, multi-surfaces, bleach, other cleaning products concentrated in degreasing and disinfecting agents, anti-scaling products, sanitizing sprays, detergents… but also wipes or toilet gels and even scented candles to get rid of bad smells. All these cleaning products are necessary to maintain a healthy home, aren't they?
In fact, not always, contrary to what the product advertisements would have us believe.
So on the one hand, to get rid of bacteria and germs, it is useful. But if a cleaning or maintenance product is not environmentally friendly and is offered at a lower price than other brands in the range, it is likely to cause indoor pollution.
Using such cleaning products can therefore be counterproductive. Indeed, washing the floor so that you can almost eat on it but end up with polluted air and the risk of respiratory problems and allergies is not desirable.
Analyse your indoor air quality continuously with the Netatmo Smart Weather Station. Benefit from real-time monitoring and alerts when the in-door air pollution level requires airing! To protect your health, paying attention to the cleaning products used is the first step, monitoring indoor air quality is another.
How to detect polluting and toxic cleaning products (and avoid them)?
Ecological and low-polluting cleaning products are available. But you have to find them and know how to identify them! Instead, it becomes vital to understand which product should be avoided.
Firstly, it is interesting to read the surveys, studies, and revelations of consumer associations, such as 60 Millions de consommateurs. The information found there is generally reliable and you can blacklist the cleaning products mentioned.
In April 2019, for example, 2 studies revealed that to reduce indoor air pollution, it is better to do without industrial household products. Why? Simply because most cleaners, deodorants, and other cleaning sprays contain a number of toxic substances.
60 Millions de Consommateurs reached this verdict after an in-depth study of the composition of 60 popular household products. To do this, the experts looked at two main criteria: reading the label of each cleaning product and its regulatory safety data sheet.
If you have enough information, remove products containing sulphates, endocrine disruptors, biocides, allergens, and other substances from your home allergens and quaternary ammoniums. These are the worst substances you can find and indoor pollution is not even their main harmful effect.
Most cleaning products contain VOCs, volatile organic compounds. These gases are more or less harmful and have many undesirable side effects on health. They are often singled out as one of the main sources of indoor pollution today, but it is difficult to know where and in what quantities they are found in cleaning products (as elsewhere: paint, cosmetics, etc).
Choose products made mainly from vinegar, baking soda, soda crystals, Marseille soap, or black soap: there's nothing like going back to the basics of ecological cleaning to fight against indoor pollution.
There is of course the question of price. Often, an eco-friendly cleaning or maintenance product containing many natural ingredients is sold at a higher price than other similar products. Ecological washing-up liquid, for example, is often the most expensive on the shelf.
The Netatmo Smart Weather Station allows you to take advantage of the data concerning the quality of the air inside your home directly on your mobile. Because every second counts and efficient ventilation is essential for your health, don't lose control of your air quality.
Homemade and handcraft as alternatives to polluting cleaning products
It is not easy to get by with products that are guaranteed to be non-polluting, environmentally friendly, and free of toxic substances. So alternatives are appearing, for the benefit of consumers and their health.
Following revelations in recent years about the toxicity of many cleaning products, more and more British people are turning to local manufacturers, craftsmen, and even homemade cleaning products. It is recommended to use homemade cleaning products over industrial products or toxic cleaning agents to reduce indoor air pollution and air pollution.
Today, this alternative is not only possible but also encouraged: many brands and retailers offer viable, effective solutions that make a real difference. The environmentally friendly, clean, and non-polluting household product is gaining market share and is becoming a fixture on the landscape.
Making your natural dishwashing liquid, degreasing cleaner, ecological laundry detergent or multi-surface cleaner, scented candles as well as cosmetics, is very simple: tutorials are available everywhere on the internet and the raw materials are easy to find.
Finally, the natural cleaning product solution has the merit of having a lower overall price than the market while offering a real ecological alternative. Plus, it's a manual activity that could change your mind, who knows. What more could you ask for in terms of cleaning?
In short, limit the use of cleaning products, opt for ecological solutions and choose homemade products. Let the sunshine in your life! Not all cleaning products are polluting and should be banned. But some are, as has been proven time and again. The choice is yours and if you have to pay a higher price, you might as well choose an environmentally friendly product. Your air will thank you, your health, and your wallet too!