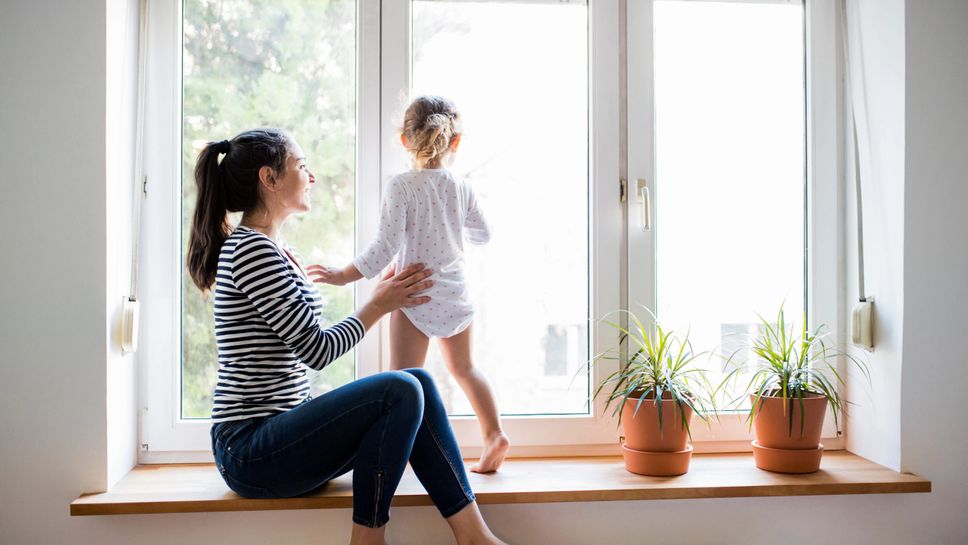 New generation heating devices are now completely autonomous and smart.
As well as being controlled remotely through a dedicated app, smart connected radiators can also detect an open window and then switch off automatically.
Are you going out? Smart radiators know your routine and, what's more, they adapt to your home's needs in real time to ensure you're as comfortable as possible.
This efficient technology means you can make real savings on your bills without having to compromise your day-to-day comfort. A huge cut to your energy costs!
Choose a smart heating system
When you're at home, you don't want to have to pile on extra layers against the cold. You want pleasing warmth and cosy rooms, without breaking the bank. Basically, you'd like to be warm without paying too much!
Well, now radiators can provide you with an effective heating solution thanks to a smart connected system that handles the energy performance and comfort of your home.
Fitted with special detection modules, like the Muller Intuis Connect with Netatmo radiators, or equipped with smart radiator valves, these modern-day heating devices can be configured through a mobile app to suit your lifestyle and heating preferences.
High-end technical characteristics mean heat loss is limited and energy waste reduced. As well as saving you energy, they can adapt to:
your lifestyle,
any variation in air temperature (indoor and outdoor),
an open window.
For example, you can get new generation connected radiators, radiant panels and electric convector heaters from Atlantic, the French manufacturer, which provides different solutions to heat, air-condition and ventilate your home. Delta Dore also supplies connected energy management systems, connected timers and thermostats.
As well as their Smart Thermostat, Netatmo also offers Smart Radiator Valves that are compatible with 90%* of hot-water radiators. 
Netatmo's Smart Radiator Valves
Whether you have an individual or collective heating system in your house or flat, a choice of different radiator options means you can enjoy pleasant, regular warmth that adjusts itself automatically.
Netatmo Smart Radiator Valves can be remotely operated using the Netatmo Energy and Legrand Home + Control apps, free to download onto your smartphone. They can also be manually controlled if need be.
You can also set up a specific heating schedule on a daily and hourly basis (similar to how the Netatmo Smart Thermostat works) and control them with the Google Assistant, Alexa and Siri voice-controlled devices.
The Radiator Valves use automatic smart features to make sure you stay comfortable with minimal effort:
- A smart control system adjusts the temperature of your connected radiators according to sunshine levels and your schedule.
- An "Open Window Detection" feature also means your heating automatically switches off as soon as a decrease in temperature is detected. So, you avoid wasting energy and expensive heating bills, even when you're not at home.
Advantages of Open Window Detection.
This innovative feature can be set to your needs and gives you complete freedom regarding the smart heating system and smart radiators in your home, which, once configured, become completely autonomous.
Extremely accurate temperature measurement
Every Smart Radiator Valve contains an extremely precise temperature measurement system. Their ability to measure the temperature to within close to 0.1 degrees alongside their technical characteristics means they can swiftly detect an open window, so as not to waste any energy.
Rapid detection of a change in temperature
Open Window Detection automatically senses any change in room temperature. As soon as the temperature drops, it adapts automatically and lets you know via the app on your smartphone. You'll see an "Open Window" icon appear next to the temperature indicated for the room in question.
Individual, automatic radiator shut-off
As soon as an open window is detected, each smart connected radiator will adjust itself accordingly on an individual basis and switch off straight away if it is in the room in question.
Our "Continue to Heat" feature:
What if you open a window and plan on closing it again in just a few minutes? Opening and closing windows is part of daily life, so you can use the "Continue to Heat" feature to avoid your smart radiators from switching off unnecessarily.
Automatic, immediate or delayed re-start
Once the window is closed, you don't need to turn each electric radiator back on one-by-one. The radiator will switch on again automatically as soon as the window is registered as closed or 30 minutes after the radiator has switched off.
Technology that helps you save
Thanks to the Netatmo Smart Radiator Valves, which can be paired with the Netatmo Smart Thermostat, you can win on all fronts. Once you've configured and set up the "Auto-Adapt" feature, not only will you reduce your energy use and save money with lower bills, but it's all done without you having to lift a finger.
Simple temperature control of the whole house
Once your home heating is under control, there's no doubt you'll save money all year round.
Connected radiators, and even smart radiators linked to a connected thermostat, are able to accurately and continuously regulate the temperature of each room. While smart radiators can simply be programmed and operated remotely, the Smart Radiator Valve can also detect open windows, allowing you to control the whole of your home heating with just a few clicks.
This way, you heat less and more efficiently, so you don't waste energy or money.
Fewer CO2 emissions
It can be tedious turning individual heating points on and off in rooms as you use them or because of a change in the temperature outside. Often valves end up being left permanently open, so rooms are constantly heated, whether or not they're being used.
Choosing smart connected radiators means each room can be heated and regulated according to how it is used. In doing so, your home remains a healthy and pleasant place to be, without you using an excessive and unnecessary amount of energy.
The truth is, however you heat your home (unless you use renewable energy), heating emits some CO2, producing pollution. Efficient heating with a smart heating solution is a chance for you to take responsible action every single day.
Lower costs for every household budget
These smart heating devices give you one less thing to think about by switching off automatically, reducing heat loss and unnecessary cost.
Also, thanks to a schedule set by you and a smart temperature regulation system that takes into account factors like your home's insulation and the temperature outside, you only spend what is truly necessary on your heating and still stay comfortable.
You will also have the tools at your fingertips to easily monitor your energy use: check your historic data and related charts, the indoor temperature, heating setpoints, radiator activity: it's all there.
* Estimated compatibility rate of Netatmo Smart Radiator Valves with radiators in Europe using the six adaptors supplied in this package and packs of adaptors sold separately.