The purpose of household products is to make your home cleaner, healthier and less polluted. That's the reason for using a cleaning product, in theory! But the reality is unfortunately quite different because cleaning products can be a source of indoor pollution. That is why choosing the right cleaning products becomes essential. Your home, your health and the environment depend on it. It really matters!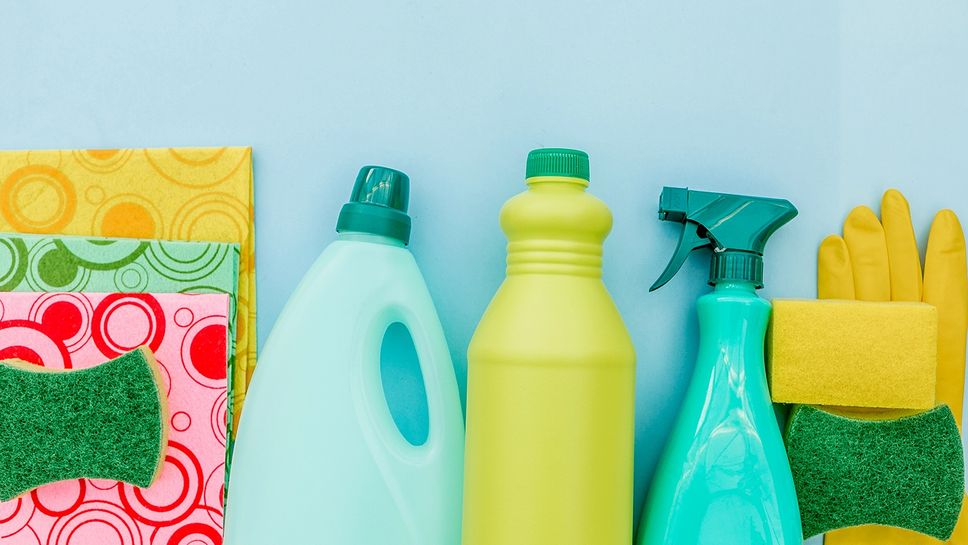 How to read household product labels properly
Household products such as multi-surface cleaners, washing-up liquid, bleach, or laundry detergent contain aggressive and powerful substances against filth. How else can you remove stains, get rid of grime, and make your home clean?
It's all about what substances are used in your household products. Few cleaning products do not contain chemical, toxic, and polluting substances. So to make the best choice when choosing a cleaning product. It is essential to be able to decipher the label.
Would you rather have soap, bicarbonate, and vinegar, or biocides, allergens, and sulphates?
The question here is not which is better: you can imagine that Marseille soap, black soap, bicarbonate, soda crystals, and vinegar are far more effective and environmentally friendly than any other chemical ingredient. The question is, however, what ingredients compose a cleaning product.
As a first step, it is important to look for information about any traces of sulphates, endocrine disruptors, biocides, allergens, and quaternary ammoniums in a cleaning product. They have no business inside your home. VOCs, volatile organic compounds, are difficult to avoid.
A cleaning product's label provides all the basic information: volume, nature of the active ingredient and additives, potential risks, etc., as well as safety instructions and methods of use.
Not all household products are used in the same way and it is recommended to follow the instructions on each product. The goal is simple: to avoid risks or accidents.
Then decipher the different ingredients: are they natural and environmentally friendly, or chemical and dangerous?
Feel free to do a Google search to get the information in a few seconds. A list of all the ingredients to be avoided and, on the contrary, all those to be favoured in household cleaning products would take up far, far too much space…
Pay attention to the icons and pictures on all cleaning-products
Irritating or harmful products, oxidising products (which can cause the combustion of flammable substances), toxic products, flammable products, explosive products, products that are dangerous for the environment, corrosive or caustic products, products that are dangerous in the long term…
All those icons in red diamonds are not the good news. Not for your health, not for your home, and not for the environment! One thing is for sure, there is much less of it on Marseille soap, bicarbonate, or vinegar.
It is therefore recommended to choose household cleaning products and cleaners that contain as few ingredients as possible. It's simple, the fewer warning photos there are, the less risk the product poses. This is an excellent sign to recognize the toxicity of a household product… and avoid using it at home.
Choosing the right cleaning products is the first step to improve indoor air quality. Thanks to the Netatmo Intelligent Indoor Air Quality Sensor, you can take your indoor air quality to the next level. Receive an alert on your smartphone when the air quality level requires airing.
Rely on surveys, studies and disclosures by consumer organisations
They are generally reliable and based on serious studies. This way you can eliminate all the cleaning products listed as toxic from your shopping list.
The magazine 60 Millions de consommateurs is a perfect example. Highly influential among consumers, a simple publication can lead to the boycott of certain brands of cleaning products, food, or cosmetics.
In April 2019, 60 Millions de Consommateurs published two studies revealing that to reduce indoor air pollution (a particularly important issue at the moment), industrial household products should be replaced by homemade products and more environmentally friendly alternatives.
Why is that? Because the majority of household products such as cleaners or laundry detergents contain toxic substances (and unfortunately only a few contain soap, bicarbonate, or vinegar.)
In their analyses, these consumer associations take into account the label of each cleaning product and their regulatory safety data card. By compiling the results, it becomes easier to recognise the toxicity of a household product and its harmfulness.
Did you know that the air inside your home is 5 to 10 times more polluted than the air outside? With the Netatmo Intelligent Weather Station, control your indoor and outdoor environment with precise real-time measurements of the indoor pollution level directly on your smartphone.
Are household product labels reliable?
Labelled household products are on average 25% more expensive. Does this mean that the product is environmentally friendly, not harmful to your home, the environment, or your health?
Generally, yes. These labels are diverse and have different requirements: Ecocert, NF Environnement, Nature et Progrès or European Ecolabel.
Beware also of rumours: an ecological, healthy, and labelled home care product is in no way less effective than a conventional product when used.