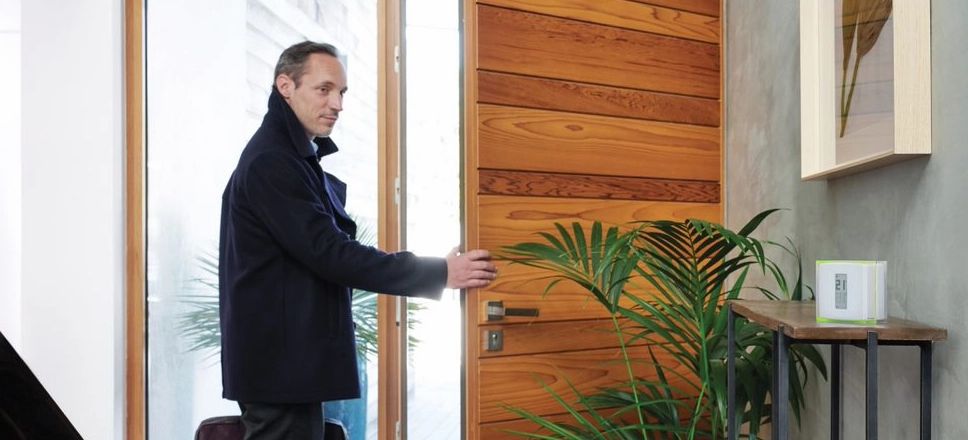 Various heating devices are available to ensure your house or flat thermal comfort. From boilers to radiators and underfloor heating, these increasingly efficient solutions combine comfort, profitability and energy savings.
There are different types of boilers: conventional and modulating.
Conventional boilers alternate between on and off periods (ON/OFF). They use energy (fuel oil, gas, wood, electricity, etc.) to bring water or heating fluid from a closed circuit to a very high temperature, before distributing it through radiators and thus, increase the housing temperature.
Thanks to permanent regulation, modulating boilers enable water or heating fluid temperature circulating in the installation - including domestic hot water - to be precisely adjusted. The heating then adapts to the strict heat requirements of the home. This device can run on gas, oil, wood, condensing or even electric.
With the Netatmo Smart Thermostat and the Netatmo Smart Modulating Thermostat, you can easily control your home temperature at any time and remotely. You save energy without renouncing your comfort, whether you have a conventional or a modulating boiler.
Buying a classic ON/OFF boiler with Smart Thermostat
You want to optimise your individual heating system performance but you already own a conventional boiler. Are you familiar with the Netatmo Smart Thermostat?
Classic ON/OFF boiler is most often equipped with an all-or-nothing thermostat. As such, the boiler switches on and off intermittently to reach the desired temperature in your home, that can be set manually or programmed. For example, a room thermostat follows the set temperature chosen by user. It tells the boiler to switch off or on again when the room temperature drops below the set temperature. The main drawback of this type of installation is a lack of precision, which sometimes leads to high energy consumption and consequent bills.
With more advanced features, the Smart ON/OFF Thermostat allows you to remotely program and control the room temperature in your home and uses the thermal characteristics of your home to manage the boiler more finely. To operate, it refers to a set temperature and automatically starts or stops your boiler.
Set up on your boiler, the Netatmo Smart Thermostat allows you to program regular heating periods according to days and times you are at home, to obtain usage and energy consumption reports and - thanks to the Energy application - to control your heating remotely, even when you are not present.
With the Auto-Adapt function, the Thermostat considers the insulation of the house and the outside temperature. It then automatically determines the time needed to reach the desired temperature for optimum comfort at the right time, without over-consumption of energy.
Buying an OpenTherm modulating boiler with Smart Modulating Thermostat
More precise, adaptable and automatically regulated, OpenTherm modulating boilers can be upgraded with the new Netatmo Smart Modulating Thermostat.
The modulating boiler alone, adapts its burner's power. If it is very cold outside, it will heat more than if the temperatures are higher. The on/off alternation no longer exists. This operation offers excellent heating quality, very high precision in temperature regulation and less wear and tear on components - because the boiler is able to adjust its overheating regime - which saves energy on a daily basis.
Therefore, communication between thermostat and the boiler is more complex than a simple on/off command. The Thermostat and the boiler need to communicate and OpenTherm is a communication language used between intelligent thermostats and compatible heating systems. It has the advantage of universal and simplified communication between devices.
Thus, in addition to the classic functions of the Netatmo Smart Thermostat, the new Netatmo Smart Modulating Thermostat is able to control the heating circuit temperature very precisely. It is also set up with the Auto-Care function. In the event of a malfunction, it offers you a precise diagnosis directly on your smartphone, making it easy to restart the system.
Finally, if the house is equipped with an OpenTherm storage boiler, the Smart Modulating Thermostat can also regulate domestic hot water production via a dedicated schedule. In the event of a change of routine, the user can activate or deactivate hot water production and adjust the temperature remotely from his smartphone.
For room-by-room heating control, you can combine your Smart Modulating Thermostat or Netatmo Smart Thermostat with the Netatmo Additional Smart Valve. You will thus obtain an ideal temperature in every room of your home.