The Google Assistant enables Google Home users to interact with connected devices via voice control, providing a seamless smart home experience.
Netatmo announces today the compatibility of its Smart Thermostat with Google Home. This new integration showcases Netatmo's ability to provide an intuitive and customizable Smart Home experience.
The Netatmo Smart Thermostat allows its owners to save energy on average to heat their home thanks to its smart features and accurate analysis tools.
Google Home, hands-free smart speaker, launches today and is available for innovative companies to integrate. Powered by the Google Assistant, Google Home can help find results from Google, turn up the music, manage everyday tasks or control compatible smart devices. Users just need to start by saying 'Ok Google".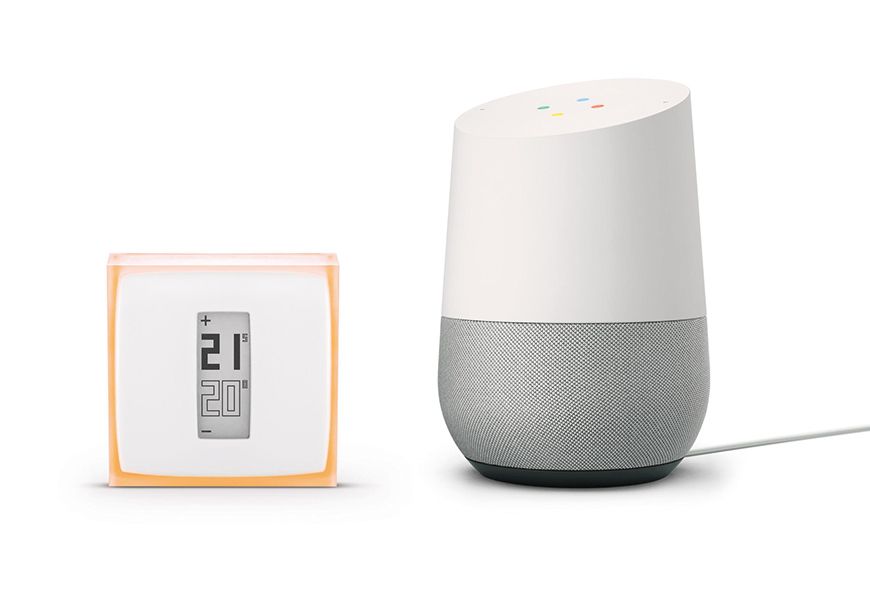 "OK Google, turn up the temperature by 5 degrees"
With Google Home, users can simply ask the Google Assistant to change the temperature of the house ("Ok Google, set my Thermostat to 20°C"), to increase and decrease the temperature ("Ok Google, turn up the temperature by 5°C") and even can ask what's the temperature of the house ("Ok Google, what's the temperature inside?").
"We strongly believe in voice control as it provides new smart home services to our users, making their lives easier", says Fred Potter, Founder and CEO of Netatmo. "Integrating Google Home enables our users to improve their comfort at home without lifting a finger: just with their voice, they know what the temperature in their house is and can increase or decrease it."
The Netatmo Smart Thermostat allows owners to save energy to heat their home without giving up their comfort. It allows users to control their heating from their smartphone, tablet or PC. The Netatmo Smart Thermostat sets a program to reflect the users' habits. For optimal comfort, it predicts the start of the heating periods depending on the household insulation and the outside temperature.
Price and availability
The Netatmo Smart Thermostat is available at the recommended retail price of £159 at major retailers such as John Lewis, Maplin, Currys, Argos and Amazon, as well as netatmo.com.
The Netatmo Smart Thermostat is also available through professionals such as Plumb Center, CEF and Grahams.
Google Home retails for £129 and is available at Google Store, Currys, Argos, John Lewis, Maplin and EE.